The results of our 8th annual user poll are in ...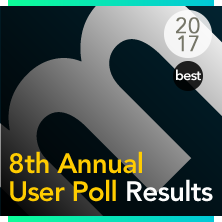 For the eighth straight year, we invited our users to list their favorite TV shows, movies, games, and albums of the past calendar year. Nearly 2,200 people participated in the survey, and the results are tabulated below.
Note that participants ranked their five favorite titles of 2017 in each category, and we assigned a value of 5 points to each first-place vote, 4 points for second place, and so on down to 1 point for each fifth-place vote.
Movies
Our compilation of over 300 top 10 lists has Get Out as the consensus favorite among professional critics and film writers. Our users also liked that film, but ranked it third overall, behind both Dunkirk (the critics' #5 choice) and Blade Runner 2049 (ranked #9 by critics).
Both groups' consensus top 10 lists have many similarities. Some notable exceptions include Star Wars: The Last Jedi (which our users had at #8 but didn't make the professionals' top 25) and Wind River (users' #11, also not in the critics' top 25). The critics' highest-ranking title that doesn't appear below is Phantom Thread, likely because that movie has only played on a handful of screens so far. (It opens wide in a few weeks.)
Best Movie of 2017 as Voted by Metacritic Users
Movie
Points
1
Dunkirk
   2,971
2
Blade Runner 2049
   2,867
3
Get Out
   2,046
4
Three Billboards Outside Ebbing, Missouri
   1,926
5
Logan
   1,491
6
Lady Bird
   1,459
7
Baby Driver
   1,408
8
Star Wars: The Last Jedi
   1,375
9
Call Me by Your Name
   1,193
10
The Shape of Water
   1,083
11
Wind River
      818
12
mother!
      623
13
Wonder Woman
      620
14
The Florida Project
      610
15
The Big Sick
      587
TV shows
Again, there is some overlap between our users' favorites and those of professional TV critics. But our users have vaulted Game of Thrones and Stranger Things to the top of the pack ahead of the critics' top three choices (which our users then have, in the same order, as #3 through #5). Our users also rated Mr. Robot, BoJack Horseman, and Fargo more highly than did critics. HBO newcomer The Deuce is the highest-ranking critic pick (at #6) not to appear among our users' picks below.
Music
Our users and professional music publications actually agree on the five best albums of the year, though in a slightly different order for numbers 3 through 5. Our users' #6 pick, the latest from Taylor Swift, is where things begin to diverge significantly, though only two other user picks (albums by Lana Del Rey and The xx) fail to appear within the critics' top 25 selections. The highest-ranking critic choice not to appear below is Sampha's Process, which ranks 10th among critics.
Games
While we don't collect critic top 10 lists for videogames, our users did opt for 2017's highest-scoring release, Nintendo Switch launch title The Legend of Zelda: Breath of the Wild, as their consensus top pick. (Users also had the year's second-highest-scoring game as their #2 pick.) Notable omissions among user picks below include high-scoring multi-platform releases Injustice 2 and What Remains of Edith Finch.
How did you do?
What do you think of the picks made by your fellow users? Let us know in the comments section below, and don't forget to check out our Best of 2017 section for all of our end-of-the-year coverage.