The results of our 9th annual user poll are in ...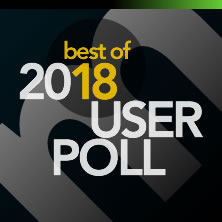 For the ninth straight year, we invited our users to list their favorite TV shows, movies, games, and albums of the past calendar year. Nearly 1,500 people participated in the survey, and the results are tabulated below.
Participants were asked to rank their five favorite titles of 2018 in each category, and we assigned a value of 5 points to each first-place vote, 4 points for second place, and so on down to 1 point for each fifth-place vote.
Movies
Critics' five favorite movies of 2018 (as indicated on their year-end top 10 lists) were Roma, First Reformed, The Favourite, Burning, and Eighth Grade. Four of those five landed in our users' consensus top 15, but only Roma ranked in the same position (at #1) on both lists. (Burning did not crack the users' top 15, though it was also harder to find in theaters than the others.) Among other differences, our users liked A Star Is Born and Avengers: Infinity War, and Mission: Impossible – Fallout much more than critics did.
TV shows
Our users' top three selections placed in the top four with professional critics, though the latter group's #2 overall choice—Killing Eve—was ranked seventh by users. There were numerous similarities between the two groups, though our users liked Westworld, Maniac, and Daredevil more than critics did. (None of those three shows ranked in the critics' top 25.) And three of the professionals' top 10 favorites—Pose, Succession, and The Good Fight—didn't crack the users' top 15.
Music
Users and music critics nearly agreed on their top three choices, though the selection of Kids See Ghosts by users at #3 prevented a perfect match. That album didn't crack the professionals' top 25, nor did users' #5 selection, the Star Is Born soundtrack. The highest ranking critic favorites that didn't rank with users were Cardi B's Invasion of Privacy (critics' #6 overall) and Christine and the Queens' Chris (critics' #9).
Games
We don't collect critic top 10 lists for videogames, but we do release a list of the year's best-reviewed games. Users voted our game of the year, Red Dead Redemption 2, into second place, instead slotting the year's best PS4 exclusive, God of War, at #1 overall.
How did you do?
What do you think of the picks made by your fellow users? Let us know in the comments section below, and don't forget to check out our Best of 2018 section for all of our end-of-the-year coverage.