Pick your favorites of the year in our 9th annual poll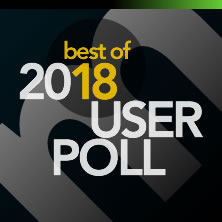 This month, we have been gathering picks by professional critics for the best TV shows, movies, and albums of 2018. Now, it's your turn to pick out the best of the past year's entertainment.
For the ninth consecutive year, we're inviting all Metacritic users to participate in our year-end poll. Submit your picks below, and, in early January, we'll tally the results and display the most-picked titles on our site. To determine the winners, we will use a simple scoring system, where all 1st place votes get 5 points, 2nd place votes get 4 points, and so on down to 1 point for each 5th place vote.
A few simple rules
You may vote only once. Once you submit your picks in a category, that's it—they cannot be edited.
BUT, you don't have to vote in every category all at once; feel free to make your picks in one or more categories now, and then come back next week to finish the other categories.
You may only vote for titles released during 2018. (For TV, each show needs to have aired at least one new episode at some point during 2018, even if that show is no longer on the air now.) We will invalidate any picks that were not released between January 1 and December 31, 2018.
We will also invalidate any duplicate votes, so don't try voting for the same title five times.
Voting will close at noon PST on Wednesday, January 2, 2019.
Movies
TV
Music
Games

More of the year's best
See all of our Best of 2018 coverage so far.