A spark of life at the midpoint of a long season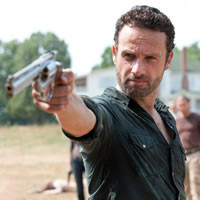 Directed by Breaking Bad vet Michelle MacLaren, last night's seventh episode of Season 2 of The Walking Dead, "Pretty Much Dead Already," marked an end in many ways. Not only is it the midseason finale (the show now goes on hiatus for several months, returning on Sunday, February 12, 2012), but it is the last episode with Frank Darabont as showrunner; the next batch of episodes will take place under the guidance of producer Glen Mazzara. And, of course, the events that occur during the episode's final few minutes mean that much of this season's ongoing story (and we really do mean ongoing) have finally concluded as well.
While many critics originally reviewed the second season (quite positively) a few months ago after previewing the first two episodes, now that they have seen the entire half-season arc in its entirety, many television writers have taken the opportunity to reassess Season 2, in most cases downgrading their original opinions. We have collected their comments below; click on any publication name to read the full review.
AOL TV / Maureen Ryan
Too often this season, the humans on the show have been idiotic, annoying or sanctimonious -- sometimes all three. The time spent on Hershel Greene's farm was often a waste, not just of time but of the relatively sturdy momentum the show had cranked up in its short first season. ... The biggest problem with the first half of season 2 is that it was about two hours of viable storytelling stretched out over seven hours.
AOL TV / Mike Ryan
Yes, that was a great ending. I've enjoyed a couple other episodes, but the ending to tonight's half-season finale, if you will, was the first time that I felt any real amount of emotion. If this is a taste of what a post-Darabont 'The Walking Dead' will be like, sign me up. In other words: Things happened!
The A.V. Club / Zack Handlen
Until that last sequence, "Pretty Much Dead Already" was the usual mix of pretty good and deeply irritating, with characters having confrontations and big dramatic moments that would've been more impressive if they hadn't all seemed to happen independent of everything else. ...I can live with a show with unlikable protagonists. But characters need to have a certain level of coherency in which their goals drive the plot, and not the other way around. That's been one of The Walking Dead's problems for a long time now.
Collider / Scott Wampler
The Walking Dead is still not as great as it should be– they've got the ingredients for something amazing here, not the least of which is a truly talented cast—but the show's made some notable improvements over the course of the past half-season, and tonight's episode contained a biggie. ... For the first time in a long time, I'm feeling confident that the show's going to overcome the quibbles I've had sooner rather than later.
Den of Geek / Ron Hogan
The second season had a great debut, but since then, the fire has gone out of the show in a sense. It's still been good to great television, depending on the episode, but it hasn't felt epic.
Entertainment Weekly / Ken Tucker
The show has turned into a nighttime soap with occasional appearances by deceased but moving, flesh-rotting, flesh-eating cameo monsters. ... Every week, it seemed, a passel of folks went out and rooted around for awhile, came back to camp, and everyone lives off the fat of Hershel's land until it was time to go out and search for Sophia again. Occasionally someone reminded Rick they're supposed to be headed for Fort Benning and he gets all huffy about not leaving any child behind. It became a parody of a Samuel Beckett play.
Grantland / Andy Greenwald
It's important to remember that someone actively chose for it to play out like this, to begin the eagerly anticipated sophomore season of a highly rated show with a never-ending traffic jam and end it stalled out in a field. ... This was an independent and wildly wrongheaded decision to transform a promising series about surviving a zombie apocalypse into an overheated soap opera about rural campsite tension.
HitFix / Alan Sepinwall
I've been underwhelmed by a good chunk of the season so far, but tonight's closing scene was so effective that I think I'm going to remember it far more strongly over the next two-plus months than I will a lot of the dull moments we got during this long stay at Hershel's farm.
io9 / Cyriaque Lamar
Season 2 started off strong, dipped, and ended with a legitimately screwed-up finale.
Paste / Josh Jackson
For all my quibbles about lazy Southern stereotypes or occasional clunky dialogue, the plot arcs have been masterful again this season.
Screen Rant / Kevin Yeoman
The Walking Dead writers have taken advantage of the breathing room a 13-episode season has granted them. In fact, they have practically put on a clinic in terms of decompressed storytelling. ... The Walking Dead's second season has so far delivered a more compelling, thought-provoking program than the entirety of season 1.
Time / Nate Rawlings
The pace during the first half of this season has been brutally slow. ... Changes in pace would be fine if the writers had used that time well, which they have not. They've tried to develop individual characters, but each subplot meant to add a layer to a character has been quickly resolved.
TV Fanatic / Sean McKenna
And as much as I've liked the new direction of the show and have still found, for the most part, the episodes to be a relatively entertaining hour of television, the second half of the season needs to feed off that adrenaline kick induced in the final moments of the [finale] episode. There has been a certain slowness and storyline dragging that's kept season two from truly thriving.
Variety / Andrew Wallenstein
What's all the more remarkable about the show's maturation is the narrative risk it took to get there. By making the daring move to derail the "Dead" characters from the ceaseless violence that awaited them on the open road in favor of sequestering them on the relatively peaceful idyll of Hershel Greene's farm, this series truly came into its own. ... In my mind, "Walking" stands shoulder to shoulder with "Mad Men" and "Breaking Bad."
Zap2It / Liz Kelly Nelson
If nothing else, the first half of the second season of "The Walking Dead" ... was a master class in storytelling: specifically, how one person's actions -- even a character who disappears in a show's season-opening episode -- can have massive repercussions for those around her and, to an extent, people she never even met (at least while alive). ... Robert Kirkman and the rest of the writing team ... showed us it is possible to tell a story over several episodes and to plant seeds early in the season that bear strange fruit only in later episodes.
What do you think?
What did you think of last night's episode, and of the second season so far? Let us know in the comments section below.