The Walking Dead, Episode 308: "Made to Suffer"

Original airdate: December 2, 2012 on AMC
Spoiler warning: This page may contain descriptions of events in this and previous episodes.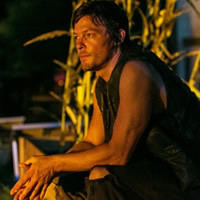 Last night's Robert Kirkman-penned midseason finale featured the arrival of fan-favorite Tyreese (played by The Wire's Chad L. Coleman) and the (brief) return of departed star Jon Bernthal. The series will resume its third season on February 10, 2013, and you can already watch a trailer for the next episode.
But, before you do that, let's find out what TV writers are saying about "Made to Suffer" and the third season as a whole...
Blast Magazine / Danielle Gillette
Like most midseason finales, there is little closure here, but it doesn't really matter. This episode was well-acted, and more than exciting enough to bring everyone back in February after the break. [Grade: 4.5/5]
Collider / Dave Trumbore
Props to the writers for this episode because there are a lot of plot lines to handle, yet they do it exceedingly well. It would have been easy to just focus on the big action piece for the entirety of the episode and leave it at that, but they manage to up the stakes for our major characters while including the minor characters in a bit of development of their own. [Grade: 9/10]
IGN / Eric Goldman
This was another great episode for The Walking Dead and a strong end to this half of the season. In Season 3, The Walking Dead has turned into a show that is perhaps less grounded and "realistic" -- in the midst of its genre scenario -- then it once felt, but this is easily the most entertaining and exciting than it's been for a prolonged period. [Grade: 9.3/10]
Paste / Josh Jackson
The mid-season finale ... was packed with memorable scenes and "wow" moments. [Grade: 9.2/10]
ScreenCrush / Kevin Fitzpatrick
Truly, has there been a more exciting episode of 'The Walking Dead' than "Made to Suffer?" Not only do we have lots of new characters to interact with, but the action sequences within the town were some of the best scenes the show has ever done.
Time / Nate Rawlings
The greatest feat Glen Mazzara's team managed to pull off this season was to bring the polar stories of Woodbury and the prison together using two characters that didn't even exist in the comics—the Dixon brothers. ... It was the subplot of two brothers who found themselves on opposite sides of a war—a story as old as stories themselves—that propelled us to an amazing climax to end the first half of this season.
TV Fanatic / Sean McKenna
There are some great episodes in the The Walking Dead Season 1 and 2, but this stretch of eight episodes really knocked it out of the park. Some great pacing along with maintaining a focus on the characters has made it probably the most compelling yet. [Grade: 4.5/5]
Zap2it / Geoff Berkshire
The pièce de résistance of an overall excellent episode was the stunning sequence that began with Michonne finding her way into The Governor's secret lair. ... If you've seen a more thrilling, emotionally-charged, edge of your seat six minutes of television this year, please share. Because I don't know how anything can top that.
A.V. Club / Zack Handlen
"Made To Suffer" wasn't the strongest hour of the fall, but it got the job done and it kept things moving. [Grade: B+]
Den of Geek! / Ron Hogan
From the introduction of a very popular character from the comics to one of the most brutal fights I've ever seen on television, The Walking Dead has put the shadow of season two in its rear-view mirror. Kudos to director Billy Gierhart, because the shaky camera rarely works, but Gierhart actually made it work during the brawl between Michonne and the Governor. It was gritty, claustrophobic, and thrilling in an episode full of such moments.
FEARnet / Alyse Wax
Season three has been so consistently good, and tonight is no exception. The excellence of this season has made tonight's episode less special, in the sense that it just feels like one of many. It was intense, and had a ton of awesome action, but there wasn't anything that stood out - if only because it was on par with the rest of this season.
Film School Rejects / Caitlin Hughes
While this is a better episode than most of this season's, it doesn't quite measure up to the standards of past pre-break attempts. With a few exceptions, nothing overly exciting happens here, and the "cliffhanger" ending is hardly a cliffhanger at all.
Forbes / Erik Kain
Sunday's was a strong episode overall, even if the addition of new characters was a bit much to pack into the hour and might have detracted somewhat from the more interesting rescue operation.
Grantland / Andy Greenwald
Despite the problems, The Walking Dead heads into the holiday hiatus in the best shape of its afterlife.
HitFix / Alan Sepinwall
Though it hasn't been perfect (notably in Michonne's minimal characterization), this eight-episode chunk of season 3 has been the strongest sustained period "The Walking Dead" has ever put together. ... "The Walking Dead" has become a much more morally complicated show, in addition to remaining one that's great at action and suspense.
Screen Rant / Kevin Yeoman
And with that, a whole new group of characters are introduced to The Walking Dead just before it shuffles off for a brief hiatus. This could be troublesome for the series; more people means more opinions, which means more arguing – something that's previously ground the plot to halt. But thankfully, 'Made to Suffer' isn't looking to put the audience through that again. This is a tight, well-paced episode that manages to keep the primary focus of the season in its sights for the duration of the hour.
TV Equals / Luke Gelineau
While not all of the moments from tonight's mid-season finale were effective for me, overall it was a thoroughly entertaining episode that definitely has me excited for the second half of the season in February.
TV Overmind / Jon Lachonis
This season TWD has built up and paid off more tension than other series do all year.
What do you think?
What did you think of last night's episode, and of the entire third season so far? Do you agree that it's an improvement over season 2? Let us know in the comments section below.