Updated 11/22
Microsoft Xbox One game console

U.S. release date: November 22, 2013 | Retail price: $499.99

Microsoft's third Xbox game console—confusingly, titled the Xbox One—is more ambitious in scope than its just-launched competitor, the PlayStation 4, and has had a bumpier path to launch thanks to early gamer-unfriendly plans (since reversed) to eliminate the used games market. While Sony's console is targeted solely at gamers, the more expensive (by $100) Xbox One aims to be an all-in-one entertainment center for your living room, with a greater array of multimedia features than its competitor—think TV, web surfing, phone (via Skype), movies, and more.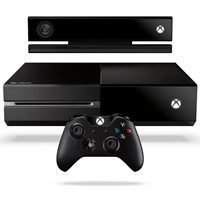 The Kinect sensor (including camera) comes included in the box with the new console, and features improved voice commands that you can (theoretically) use to control anything hooked up to the console, including watching live TV (with the Xbox One able to change channels on your cable box, and even turn your TV on) or the built-in Blu-ray player. The system also adds split-screen multitasking, so you can surf the internet or watch TV while also playing a game. One missing feature inside the box is rechargeable batteries for the game controller; if you want to use something other than standard AA's, you'll need to buy it separately. Like the PS4, the Xbox One is not backwards-compatible with previous-generation games. And some online features require an Xbox Live Gold subscription that can run $60/year. Also note that Twitch gameplay streaming will not be available at launch; that functionality should come on line in early 2014.
Key launch titles for the Xbox One include:
How good is Microsoft's new hardware? Below are quotes from many of the reviews for the console itself that have been published so far; we'll update this page over the next few days as reviews are added and updated. If a publication provided a score or grade for the console, it is listed (and converted to our 0-100 scale). For reviews of individual games available for the Xbox One, visit Metacritic's new Xbox One section.
New:

Third batch of reviews (added Fri 11/22)

The Daily Beast Alec Kubas-Meyer

It's not done yet. ... It's exciting, because it means the system has huge potential to grow and expand, not just as a game machine but also as an entertainment device. But it's also frustrating, because it means the system feels incomplete. ... When the Xbox One really works, in those moments when the Kinect does exactly what you want it to and you're seamlessly switching from app to game to app, it really does feel like the future. But you should hold off on buying it.

Joystiq Ludwig Kietzmann Updated review

The Xbox One assumes you subscribe to its idealization of the living room: the family encircling the all-singing, all-dancing entertainment peeling out of a dominant television. Your house, apartment or dorm room might not be compatible with Microsoft's vision, and that might lead you to wonder why you wouldn't buy a thing that just plays games. With $500 and an Xbox Live subscription in mind, my advice is to consider the Xbox One not as a pure, personal vector for games, but something that might accompany you and your friends for one long, lazy Saturday.

Variety Marc Graser

Yet while trying to please everyone in the living room, for example, Microsoft is embracing the A.D.D. that's turned us all into a distracted mess, always staring at a screen of various sizes and unable to carry on a conversation with the people around us.
Second batch of reviews (added Thu 11/21)
Eurogamer/Digital Foundry Richard Leadbetter
Microsoft's vision is very different [than Sony's]. It has taken a broader view of the market perhaps not entirely compatible with the needs and wants of the core gamer. It is willing to make the trades on gaming power in order to potentially revolutionise the way we interact with entertainment in the living room - Microsoft is betting that once we've experienced it, we'll never be able to go back. It's a bold gamble, but the key issue is that much of this revolutionary functionality just isn't there right now. The price differential with PlayStation 4 clearly is.
60 The Guardian Keith Stuart
There is much potential here in this big black slab, and there is a lot of functionality still to discover. ... But something about PS4 feels fresher, more seductive, and Sony ended this generation with one of the true great games, The Last of Us. The momentum is there.
90 PC Mag Will Greenwald
The Xbox One offers a comprehensive, powerful experience in both gaming and watching television, and even its imperfect features show remarkable success along with its ambition. If you want a pure game system, the Xbox One is neck-and-neck with the PlayStation 4, and the main factors you should consider are which system has more games you want to play, and how much can you spend. As a media hub, though, especially if you subscribe to cable or satellite service, the Xbox One stands in a class of its own.
USgamer John Benyamine
The television integration is more impressive than I imagined it would be, the OS is light years beyond anything that accompanies the usual Metro-inspired products, and lest we forget it's also a game system. I'll let the games speak for themselves as that will be the true judge of whether or not a system is worth the money, but Xbox One's ability to integrate gaming into the living room in such a quick and easy way may be the industry's best hope of staying relevant to gamers and families that now have more choices than ever before.
First batch of reviews (added Wed 11/20)
Ars Technica Kyle Orland
At this point, the voice control and multitasking functions that are meant to really set the Xbox One apart are just shy of being good enough to really push the system over the top. They're certainly nice conveniences, but there are enough kinks in the execution to limit their effectiveness. Even if those problems are smoothed out with future updates, I'm not sure if these features are worth $100. ... In short, buy an Xbox One if and when there are enough exclusive games to convince you it's worth the expense. ... If you can live without those platform exclusives, though, and if you can do without fancy picture-in-picture and voice commands, look into saving some money on a PlayStation 4 instead.
Boing Boing Rob Beschizza
There's just not an awful lot of fun to be had with it, yet, because games and apps worthy of the hardware aren't there. ... If you need guidance, all I can suggest is to be patient. The Xbox One and the PS4 are similar, and both have unexciting launch titles. If you're not sure which to get, wait a week or two; see what games get good buzz from players as well as critics. If you're not sure whether to get either, there's no harm waiting until there's more to do with the next-gen consoles, period, before making a choice. And if you're waiting for validation on a decision you've already made: go buy it already. The Xbox One is fine.
70 CNET Jeff Bakalar
The Xbox One goes beyond gaming with its ambitious live TV integration, but at launch it can't deliver a knockout blow to the PS4 due to a higher price and uneven voice control. We suggest you wait for improvements, but for now, the Xbox One is better suited to forgiving early adopters.
Complex Michael Rougeau
When all the disparate pieces come together the Xbox one is extremely impressive. You'll be pleased with the new Kinect when you're playing a game and want to look something up on the internet and you can snap Internet Explorer to one side while continuing to play, or when you want to check whether a TV show has started yet without interrupting your movie on Netflix.
Consumer Reports Matt Ferretti
If you're the type of person who splits your focus between gaming and sports or keeping up with TV shows, then this is the console you'll want. If you own a smart TV with similar entertainment features, though, you probably don't need them from the Xbox One.
CVG Andy Robinson
Microsoft wants to win the hearts and minds of the core gamer, and the final Xbox One still has some way to go before that ambition can be fulfilled. ... For consumers who use Netflix and Skype as much as Forza, Xbox One presents an attractive multimedia offering this Christmas. But for core gamers, Sony's package is perhaps more attractive at the moment, with more visually impressive exclusives (Killzone and Resogun are not matched by anything currently on Xbox One) and the options to stream and share game footage straight away.
Destructoid Dale North
This has to be the most full-featured game console offering ever brought to market. ... [But all] of these technologies and features for Xbox One are pointless if there aren't great games to play on it. While future offerings look promising, the Xbox One's launch library is somewhat lacking. There are plenty of interesting experiences to be had, but only a few of the offerings are truly notable at this point. It's clear that Microsoft doesn't have this generation's Halo yet.
Digital Spy Matthew Reynolds
We're very impressed by Xbox One. The multi-tasking and Skype are standout features, and while voice control takes some getting used to, it feels natural and is something we can see ourselves using alongside a traditional controller to quickly jump between different areas of the system.
Engadget Ben Gilbert
The Xbox One may not be exactly what Microsoft thinks it is, but it's still a strong start for a powerful game console. Its sheer speed, versatility, horsepower and its ability to turn on and off with words make it a relatively seamless entry into our already crowded media center. What determines whether it stays there is the next 12 months. ... What's there so far is a very competent game box with an expensive camera and only a few exclusive games differentiating it from the competition.
Fortune JP Mangalindan
If the Xbox One isn't already near the top of your holiday wish list, it should be.
Games Radar Hollander Cooper
If you want to get the system, and need an excuse, go ahead and pick it up at your earliest convenience and you'll find plenty to enjoy. But if you want to wait, you can do so guilt-free until some bigger exclusives drop.
Gizmodo Eric Limer
For now, the Xbox One is one impressive living room box machine—and it more than justifies its $500 dollar price with the inclusion of at least $100-worth of set-top boxitude—but you're going to be better off waiting for a little while to see how things shake out. But—and this is admittedly a sizable but—if the Xbox One can straighten the few little quirks it has with some software tweaks, this thing is going to be unstoppable in a way the PS4 could never touch. It's too versatile, too feature-ridden, too future. So wait, yes. But while you do, go ahead and start clearing out plenty of space underneath your television.
The Globe and Mail Peter Nowak
The fears about games taking a back seat can be put to rest, at least for the time being. Of the two next-generation consoles launching this fall, Microsoft's product easily has the better initial lineup of titles ... The console is in fact a fine games machine – one that will continue to improve as developers get comfortable with its nooks and crannies, the same way they did with its predecessor.
Huffington Post Drew Guarini
Although the One has its flaws, it's important to remember where the Xbox 360 was when it started, and how far it's come. Microsoft will surely get feedback from owners and mold the One into a more perfect version of an all-in-one entertainment system. What they've got now is a nice foundation.
80 The Independent Jamie Merrill
The game play and graphics are clearly a step beyond what the Xbox 360 could offer.
Kotaku Kirk Hamilton
While my inner optimist hopes that Microsoft will eventually get the console working as precisely as they'd like, not everything fits into place as it should just yet. The hardware is sturdy but the software apparatus feels loose, incomplete.
Los Angeles Times (Hero Complex) Todd Martens
Here's a confession about living with the Xbox One for a week: I turn it on constantly. I turn it on if I am watching basic cable. I turn it on if I am using the Wii U. I turn it on if I am using the PS4. I have six devices capable of streaming Hulu to my TV, but I turn on the Xbox One for Hulu. Why? The voice commands. Volume up, volume down, mute, pause, rewind, turning the TV off and on, etc. It's that simple.
Mashable Chelsea Stark
Overall, the Xbox One experience is polished and stimulating, and it sets the groundwork for great gaming in the years to come.
Metro (GameCentral)
Playing around with the Xbox One at home proves to be a slightly underwhelming experience. Not because there's anything wrong with it but because at the moment it really doesn't do that much more than a current gen console.
New York Daily News Ebenezer Samuel
Xbox One is easily the most ambitious gaming machine yet. And that ambition is this machine's blessing and curse.
80 PC World Jason Cross
On balance, the Xbox One is a fantastic piece of technology, well worth the cost of a new iPad. There are some sore spots, which Microsoft will undoubtedly address in the coming months through software updates. Chief among them are the terrible quality of Game DVR recordings, the inability to stream game sessions, and the total lack of social media integration.
100 Pocket-lint Chris Hall
The Xbox One is a hugely impressive package on day one. The interface is well designed and it's easy to get around. he mixture of ways to interacting with the console - from controller, to voice to gesture - mean that you always have options. ... Xbox isn't just a gamers' console: it's a gateway to a multitude of home entertainment, pulling all the strands into one interlinked experience. The future is here and we love it.
80 Polygon
To be clear, Kinect isn't a fully realized product yet. ... But in many ways, the Xbox One's bold direction for the future is well in place. The integration of voice controls and its media strategy are a boon to everyone, and the ability to run apps while playing games is something we now want on every gaming console we have. That it has a handful of strong, exclusive games at launch only supports its legitimacy as a gaming console and not just an entertainment hub.
Popular Science Colin Lecher
Wait. You don't need something to hook up through your TV right now, unless it has games to accompany it, and the Xbox One, as cool as some of its features are, has a dearth of games.
Rolling Stone Evan Shamoon
Xbox One games now look like high-end PC games – unsurprising, perhaps, since the console uses largely PC components. This isn't a bad thing, and the performance you get out of the machine easily bests an equivalently-priced PC.
Shacknews Andrew Yoon
With or without Kinect, Xbox One is a powerful multitasking system that has incredible potential as a true "all-in-one" entertainment device. It's not quite there, though. The app library is still rather limited, and its inability to fully interact with DVR systems will frustrate the kind of user that's likely to use this functionality the most.
70 TechCrunch Greg Kumparak
Even with 8 years having passed, the leap from the last generation to this one isn't quite the same leap in technology we've made so many times before. ... After 8 years, you might hope that the Xbox One would just demolish everything you've seen with the Xbox 360; on Day One, at least, it does not.
80 The Telegraph Tom Hoggins
As a starting point, it's a very good one. The dashboard is dynamic, easy to use and malleable enough that when more content becomes available, you can curate it how you wish. That initial wave of content, while certainly capable enough, doesn't yet have the power to make the console a must-have, especially considering the chunky price tag. Currently an unessential luxury, then, but one with a bright future.
Time Matt Peckham
It's an immature, somewhat glitchy content assimilation engine at this stage, sure, and it shares the PS4's launch game weaknesses if you're coming at it from the gaming side, but if you're an early adopter or already invested in Xbox Live's social ecosystem, think of it more as the jumping off point for a fascinating experiment. It's a risk, but then all product launches are risky.
80 Tom's Guide Sherri L. Smith
The $499 price tag on the Xbox One is justifiable, considering its one-box-to rule-them-all approach. When combined with a cable or satellite TV connection, the One feels like the more exciting and innovative console you'll be using well into the next decade.
Toronto Sun Steve Tilley
Despite the improvements made to the new Kinect, using hand gestures to select things in the on-screen menu is exactly as ungainly and annoying it was with Xbox 360. Until we reach that Minority Report future, stick to voice commands, which, while not flawless, are definitely more consistent.
88 USA Today Brett Molina
The Xbox One is a formidable video game console, particularly with its improvements to Kinect. The experience isn't consistent and some features need fine-tuning. There are also the lingering long-term questions tied to any video game console launch, such as how the gaming library and entertainment options might expand. Plus, PS4 has a clear advantage on price. However, the Xbox One represents a significant leap to the next generation.
78 The Verge
The blueprints are all here. Virtually everything Microsoft is trying to do is smart, practical, and forward-thinking. ... But nearly everything that could be great someday isn't great right now.
At the moment, the Xbox One isn't blowing us away, but then again, bar Kinect, it's not doing much wrong. It's set itself some high standards, and it's not reaching them at the moment.
Washington Post Hayley Tsukayama
Although it can be easy to overlook the Xbox One's gaming capabilities, they're still at its heart. And the specs are everything that you may expect of a next-generation console and well matched against newly released PlayStation 4. Xbox One graphics are smooth and fluid, with responsive game play and few glitches.
70 Wired Chris Kohler
Sometimes it works. Sometimes it doesn't. Sometimes it's magical, sometimes it's inept; Xbox One is the Ron Weasley of consoles.