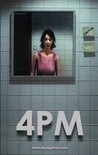 Summary:

4PM is a short, narrative driven game, made by one person as an attempt to tell a real, thriller story in the form of an interactive experience. It has high production values and a cinematic style. It is, with your support, a first in a series of smaller, narrative driven experiences, that

4PM is a short, narrative driven game, made by one person as an attempt to tell a real, thriller story in the form of an interactive experience. It has high production values and a cinematic style. It is, with your support, a first in a series of smaller, narrative driven experiences, that spare no expense on audio-visual style.

…

Expand
Developer:

Bojan Brbora

Genre(s):

Adventure

,

General

,

3D

,

First-Person

Cheats:

On GameFAQs
If you've got no ties to the themes 4PM is attempting to address, especially considering its short length, you might not find that it resonates as much as it could. However, if you're wanting to have a short and dramatic interactive story, 4PM is a mature and refreshing story.

The brain behind (Bojan Brbora) 4PM deserves a lot of credit for what he has attempted to achieve, but when all is said and done, this feels more like a proof of concept than a fully realised game.

4 PM is not what we want from the new school of storytelling. Exploiting themes such as alcoholism and suicide to make an otherwise unattractive project appealing, is sinister and disrespectful.

The filmmakers' interactive experiment fails on a variety of levels: technically, mechanically and, most disappointing, when it comes to storytelling.

4PM can't be considered a game, rather it is an experiment. Poorly executed, unfortunately. Bad visuals, awkward narrative, chunky controls make for an unacceptable 4 € price tag. Thumbs down.

Imagine if David Cage were even more of a dribbling lunatic. Welcome to 4PM.

4PM claims to be an experimental title yet it's as by the numbers as they come.
I liked it, was interesting and had funny atmosphere and her boss was scary. I liked that the environments where detailed so you could get an

I liked it, was interesting and had funny atmosphere and her boss was scary. I liked that the environments where detailed so you could get an impression of the people in the game. just wish it lasted at least 5 times longer, short game.

…

Expand

Uninteresting, boring, and poorly designed/programmed. A shameful excuse for a storytelling game. Charging for this game is essentially

Uninteresting, boring, and poorly designed/programmed. A shameful excuse for a storytelling game. Charging for this game is essentially robbery. If you need further convincing, simply watch some gameplay.

…

Expand

I got this in a bundle recently, having never heard of it before. But, I like "artistic" games; I've enjoyed such works as 9.03m so I decided

I got this in a bundle recently, having never heard of it before. But, I like "artistic" games; I've enjoyed such works as 9.03m so I decided to try it. My total play time, from beginning to end, was a half hour. Plot aside (there is one, but it's not very well fleshed out), the execution of this game fails on every level. Optimization is poor, response is sluggish, interactive items only work when it's time in the "story" for them to work, character models look at least ten years old, voice acting is mediocre, and even the subtitles are poor (for example, "lose" is misspelled as "loose"...twice). One "stealth" section of the game is laughably (and worse, frustratingly) bad, and all of these things get in the way of what should have been an interesting and meaningful experience about alcoholism and depression.

It's hard to believe this is a 2014 release. "4PM is a high production value, cinematic experience aimed at people interested in interactive story-telling," the game's press release reads. Yes, all those things would be true --if it were 2004. It's not, and this game is far too many years too late to be worth the effort of muddling through it. What a shame.

…

Expand