Publisher:

NCSOFT

Release Date:

Jan 19, 2016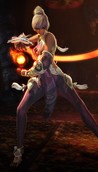 Summary:

Your tale of revenge unravels across a world where martial arts and mythology meet in a furious clash of fists and betrayal. The path of vengeance begins with determination. Choose one of four unique races, and use detailed character customization tools to shape your persona with

Your tale of revenge unravels across a world where martial arts and mythology meet in a furious clash of fists and betrayal. The path of vengeance begins with determination. Choose one of four unique races, and use detailed character customization tools to shape your persona with near-infinite possibilities. Like the crane that soars on the wind, explore a beautiful, cinematic world as you use the power of windwalk to glide across forests, dash across rivers, and jump over mountains. See the world inspired by the distinct visual style of acclaimed artist Hyung Tae Kim as you travel the land.

…

Expand
Developer:

NCSOFT

Genre(s):

Massively Multiplayer Online

,

Fantasy

,

Role-Playing

,

Massively Multiplayer

Cheats:

On GameFAQs

Rating:

M
Please enter your birth date to watch this video:
You are not allowed to view this material at this time.
Blade and Soul Debut Trailer
Blade & Soul's combat system is a huge breath of fresh air in the MMO market.

Overall this is a game that should not be passed up simply because you have already put in so many hours on another game. Rather it should be experienced for what it is and all other developers looking to dip a toe in the MMO pool should take note that this is how to breathe life into an otherwise stagnant and overcrowded free-to play market.

You know those lists with pros and cons that help you make important decisions? In the case of Blade & Soul the beautiful graphics and exciting PvP, and the fact that the game is free to play, would be on the plus side. The negative side is mostly filled by the somewhat uninspired quests and dungeons. Fortunately Blade & Soul has an advantage which helps fill the list in favor of a beautiful score: The unique combat.

Although Blade & Soul is rough around the corners with its outdated quests and PvE envrionment, its strength in action-based combat and PvP shines through.

A belated game following the band of other Korean MMOs vanishing on the horizon. [03/2016, p.58]

It succeeds at providing enough of a compelling reason to try it out, but in failing to do anything else new it just feels like a rehash of once-standard ideas.

Blade and Soul's excellent PvP is buried beneath a mountain of tired MMO tropes that are sometimes frustrating and rarely innovative.
Every time I get on to play this game, I have a blast. I am shocked that this game is this much fun. Some of these negative reviews are so

Every time I get on to play this game, I have a blast. I am shocked that this game is this much fun. Some of these negative reviews are so off base. I encourage players to try it for yourself. If you want to experience rich content in the best combat system in an mmo to date, then try out Blade and Soul. You won't be disappointed.

…

Expand

'So its been about 2 months since the release of BnS and I am curious to see its user score on metacritic...' 5.6... well... I'll go ****

'So its been about 2 months since the release of BnS and I am curious to see its user score on metacritic...' 5.6... well... I'll go **** myself. I feel like I have to defend a beautiful girl being pestered by a bunch of thugs and receiving a black eye for ever intervening (represented by the no votes on this review). Are we even playing the same game? Giving a game a zero rating is such a troll score. The game is booootiful and very much enjoyable. 10/10

…

Expand

What an amazing game! The action combat has changed the way I look a MMO's. I will never be able to go back to a game like WoW again where I

What an amazing game! The action combat has changed the way I look a MMO's. I will never be able to go back to a game like WoW again where I mash buttons in a rotation. Every kick, every punch, and swing in Blade and Soul just feels so right.

…

Expand

Not a bad game, crafting is good, graphics are okay, mediocre story but it's the combat that will bore you to death eventually and i didn't

Not a bad game, crafting is good, graphics are okay, mediocre story but it's the combat that will bore you to death eventually and i didn't even log that much time!

…

Expand

Blade and Soul is one of those games from which you expect very little, and yet they still manage to disappoint you. Let's start with the

Blade and Soul is one of those games from which you expect very little, and yet they still manage to disappoint you. Let's start with the promise of dynamic combat. Like all modern MMO's this game does have a relatively fluid combat system coded in with plenty to choose from in terms of both classes and attacks which are diverse. Unfortunately none of it matters since BnS's servers are really ( I mean really) bad with ping fluctuating between 150-200. And before you dismiss this review in it's entirety, please not that I have done my research. My connection is stable and I've checked that my normal ping with frankfurt (Location of the servers) is never higher than 60. I have also confirmed it with other players. My friend from England has a ping of around 120 on a fiber connection. And after some research i've found out that minutes after maintenance when players have not came back yet delay was exactly 60 with perfect fluid gameplay, which lasted only 5 minutes. So it pretty much confirms that their servers are at foult.
PVP suffers from that but it's not even it's greatest fault...
Unless you have spend an insane amount of time[or money] in the game you will be overpowered by other players not only in World PvP but also battleground which do not have any type of matchmaking in place. Myself playing nearly 2 months I can deal around 30k DPS and have to compete with other players who deal 800k per second. And you don't need to be a rocket surgeon to see that encounter always ends with me being blown up to smithereens. And that's a Battleground! With queues and stuff!
Another nail in this game's coffin business is it's economy.
The entire thing is based on opening loot crates you get from completing different tasks.
The game greets you with a "spin the wheel!" screen and always tells you when there are new items in store. The grind is tedious and it would be fine if not for the fact that it was clearly designed to directly drive you to the Store with some sweet deals! Oh man those orbs which will take me a week to grind only cost 10 bucks on the Hongmoon store, I better get them so I can have a slightest chance in beating those whales who already have all of it!
So Servers are trash, PvP favors old and wealthy players and there is constant gambling present. Well what about the story?
Well it's Cliché cardboard cut-out of a good versus evil plot, which only a couple of memorable missions plot twists and cinematics. Most of it is traditional and boring busy work filler before you get to the good stuff that is far apart and mostly near the end. I have no doubts that it has been cobbled together just to justify it's existence as a mobile gam...I mean fully featured MMORPG.
If you are NA/EU I do not recommend this game because it's a complete waste of time for anyone who doesn't have a lot of cash to spend to have capital letters ANY type of chance at competing with aforementioned whales.

…

Expand

Was able to play briefly since I had to go to work and it looked and ran beautifully. However I have never been able to get back in since.

Was able to play briefly since I had to go to work and it looked and ran beautifully. However I have never been able to get back in since. The wait time for any spot in the queue easily rates several hours on what is shown. I even saw the timer go all the way up to two days. Unless they can at least fix the queue issue I see this game losing too many players for the wait to get in alone. No game is worth waiting hours at character select.

…

Expand

Great gameplay, interesting storyline. Arena will be good again when scripters finally get banned.

Poor optimzation of the game causesGreat gameplay, interesting storyline. Arena will be good again when scripters finally get banned.

Poor optimzation of the game causes horrible framerates, and all servers being in texas cause horrible ping for people in canada and those farther away from the server location. Developers need to focus on optimizing the game for newer hardware rather then pumping out content.

Update: I have since tried to comeback and give BNS a shot again and the game causes BSOD (Critical Process Died) if you can get this game to run good luck but NCsoft support is beyond trash don't bother putting in a ticket to try to get them to solve your issue as your just waisting your time.

…

Expand