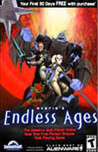 Summary:

Nature is used to describe the endless struggle that rages across the universe where only the strong survive. Time after time the defenseless suffer while the strong and ruthless control the fate of the weak. Each being lives and dies, each finding their place and each wondering what will

Nature is used to describe the endless struggle that rages across the universe where only the strong survive. Time after time the defenseless suffer while the strong and ruthless control the fate of the weak. Each being lives and dies, each finding their place and each wondering what will happen when their candle finally burns out. When it finally happens, very few find themselves correct. [Summitsoft]

…

Expand
Developer:

Avaria

Genre(s):

Role-Playing

,

Massively Multiplayer Online

,

Massively Multiplayer

,

Fantasy

,

Fantasy

# of players:

Massively Multiplayer

Cheats:

On GameFAQs

Rating:

T
The jerky third-person graphics and sound breakup were a bit disappointing, but Endless Ages does offer interesting and new twists on the MMO world.

Unlike other MMORPG's with admittedly better graphics, Endless Ages throws so much variety into the overall experience that there's rarely a dull moment. [Aug 2003, p.69]

Stretching the imagination and delving into some virgin territory for the MMOG market, Avaria's Endless Ages offers up a plate of new character types, travel modes and colorful scenery in a first person shooter MMOG, but sometimes being unique isn't enough.

The game controls left a lot to be desired, and while fully customizable, the interaction with NPCs and lootable corpses is far too discouraging.

This cross-pollinated game has a lot of potential but little of it has been realized in this version. It's weak in just about all areas. Nothing seems to go smoothly at first, everything is a learning curve including interacting with the interface.

Suffers from crippling lack of polish, content, and forethought. [Nov 2003, p.93]

It is neither a compelling first-person shooter, nor a worthy role-playing experience, failing on both fronts.
I have been playing this for about a year, bought it when it went gold, and i still love it. i wouldn't play any other game.