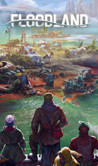 Summary:

A society survival game set in a world destroyed by climate change. Explore, scavenge and build a city to unite the clans. Conflicting cultures and limited resources mean you need to make tough choices; have you got what it takes to lead your people into a new era of humanity?
Developer:

Vile Monarch

Genre(s):

General

,

Strategy

,

Management

,

Government

# of players:

No Online Multiplayer

Cheats:

On GameFAQs
Floodland is a very strong strategic game with solid gameplay mechanics. The world is fascinating to explore and the narrative campaign introduces new layers of complexity. Defects are few and far between with little impact on the overall experience. Kudos to Vile Monarch.

Floodland rises above the surface when the depth of its mechanics are given the space to breathe. It strikes a brilliant balance between complex systems that are slick and accessible, while offering a satisfying level of micro-management gameplay. For all of its wonders however, this bristling settlement sim can run aground of stagnated progress and unwieldy inter-clan mechanics on occasion, but nothing should stop you rebuilding humanity in this beautifully desolate world.

Floodland is an absolute must-play for fans of the survival simulator genre. The game runs smoothly, controls well, and has enough depth in it to keep players coming back for more. The bleak world of this post-climate change disaster is immersive and beautiful looking, and Floodland is also a great beginner-sim for players who may be new to the genre, with its classic research trees, simple mechanics, and well-crafted tutorial are easily understood at any skill level.

Floodland is an intriguing city-builder that manages to be intuitive and also quite complex in its game systems, but sadly it's also filled with many technical hiccups that can slow down (and potentially halt) your progress. The foundation is solid and there is a good game beneath it all, but the game will probably need a couple of patches to really shine.

Floodland is a city builder with a strong concept and a pretty cool game style. It lacks of good narrative and needs better graphics but this does not stop the fun and originality of the game.

Floodland is a survival city-builder that doesn't amaze for its main themes, the commercial façade, but for its inner and partially veiled characteristics. Technically it isn't quite the satisfying game (the situation may get better on day one, but only time will tell), but artistically and soundwise, it has some really powerful blows to throw at its audience.

As original in its themes than it is classic in its gameplay, Floodland is a nice game to play between two bigger AAA in this holiday season.