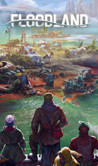 Summary:

A society survival game set in a world destroyed by climate change. Explore, scavenge and build a city to unite the clans. Conflicting cultures and limited resources mean you need to make tough choices; have you got what it takes to lead your people into a new era of humanity?
Developer:

Vile Monarch

Genre(s):

General

,

Strategy

,

Management

,

Government

# of players:

No Online Multiplayer

Cheats:

On GameFAQs
Floodland is a very strong strategic game with solid gameplay mechanics. The world is fascinating to explore and the narrative campaign introduces new layers of complexity. Defects are few and far between with little impact on the overall experience. Kudos to Vile Monarch.

Floodland is an absolute must-play for fans of the survival simulator genre. The game runs smoothly, controls well, and has enough depth in it to keep players coming back for more. The bleak world of this post-climate change disaster is immersive and beautiful looking, and Floodland is also a great beginner-sim for players who may be new to the genre, with its classic research trees, simple mechanics, and well-crafted tutorial are easily understood at any skill level.

Really good survival strategy, which is particularly noticeable with its social aspect - and which is noticeably slowed down by its technology.

Floodland is an interesting post-apocalyptic city-building experience, but it lacks depths in some of its core mechanics.

More than anything, Floodland feels like a game that could really benefit from some updates and content changes. As it stands, there's a unique city-builder that fans of the genre will likely enjoy, but it could be one of those games that really turns into something special with the right support.

Floodland not only asks if you'll sink or swim when the world ends, but if you'll plunge your arm into the murky depths to pull others up with you or step on their heads to save yourself. Its ability to look toward the future of civilisation without losing sight of the individuals who will form it is insightful. It lacks a certain spark that would make it great, and some unfortunate bugs let it down in the mid-late game, but I look forward to returning to the floodlands once these teething issues are ironed out.

As original in its themes than it is classic in its gameplay, Floodland is a nice game to play between two bigger AAA in this holiday season.
absolute garbage game between the micro freezes and CTD you get a boring game where the goal is to turn the power back on. and once you do

absolute garbage game between the micro freezes and CTD you get a boring game where the goal is to turn the power back on. and once you do there's no point in playing anymore. that's if you even make it that far it CTD at the drop of a hat the game is poorly optimized even using a 1080 ti fps drops like a stone later on the more you build the worse it gets. save your $

…

Expand