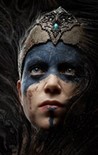 Summary:

An independent game from Ninja Theory - makers of Heavenly Sword, Enslaved: Odyssey to the West & DmC: Devil May Cry. Hellblade: Senua's Sacrifice takes you on a journey into savage viking heartland with Senua, a Celtic warrior struggling with trauma & psychosis.
Developer:

Ninja Theory

Genre(s):

Action Adventure

,

General

# of players:

No Online Multiplayer

Cheats:

On GameFAQs

Rating:

M
Please enter your birth date to watch this video:
You are not allowed to view this material at this time.
Hellblade: Senua's Sacrifice - Combat Trailer
LEVEL (Czech Republic)

Sep 29, 2017

Hellblade is a kind of a game you have not played yet. Despite the smaller variability of enemies, it offers such a powerful experience that we have to recommend it. Senua's mind suffers and you suffer with her. Ragnarök is coming. [Issue#277]

Hellblade is one of the game industry's few genuine dramas – a dark, uncomfortable experience that makes players suffer alongside its protagonist. By intentionally avoiding the standard power fantasy in their designs, Ninja Theory has shined a light on mental illness, an important subject that many people are ill-informed about, and they've portrayed it in an immersive manner that no other storytelling medium could. For those up to the challenge, it's a must-play, and one of the boldest and most important artistic endeavors games have seen in quite some time.

Clocking in at around 6 hours, there isn't any real replay value unless you're someone like me who likes to go back to see how the experience changes after I've been enlightened with the full picture. While some may claim that it is far too short of a game, I would argue that it is the perfect length for this particular title, and as it retails at half the cost of a typical triple A game at $29.99, it more than justifies its asking price. After all, I certainly don't think this would have been a better game if it was double the length at twice the cost.

Hellblade: Senua's Sacrifice is a clear example of a game as an art form with a strong message and a complex, layered narrative. It's true that you're sort of along for the ride and most of your interactions are through your emotional response to what is depicted rather than through the mechanics of the game, but is that such a bad thing?

Ninja Theory ought to be praised for what it's achieved – an adult story that's told like no other, combat that's skilful and harrowing, unique environmental based puzzles and light, scenic adventuring. It's just a shame that some of Hellblade's gameplay components at times feel forced.

Over the course of its journey, Hellblade keeps its gameplay lean in order to not overstay its welcome. Despite the complexity of the narrative and its presentation, combat only happens when it needs to, and puzzle solving and set-piece moments often drive the story forward to reveal more about Senua's motivations. Which in turn reveals the struggles that torment her, preventing her from moving on.

Odd as it may sound to recommend a game moreso on its story, Ninja Theory's latest is an interesting, if flawed, entrant.
Graphics are amazing, sounds are amazing, story is amazing, gameplay is amazing and not like boring long time taking other games. It gets full

Graphics are amazing, sounds are amazing, story is amazing, gameplay is amazing and not like boring long time taking other games. It gets full mark from me because price is also very cheap and optimization is well.

…

Expand

One of my favorite games. I love Viking based games. The story is really interesting and makes you wanna play non-stop. Gameplay is so fun,

One of my favorite games. I love Viking based games. The story is really interesting and makes you wanna play non-stop. Gameplay is so fun, never getting boring. Puzzles are adding extra challenges. Surroundings are really well made, the atmosphere is breathtaking. The character's mental health problem takes this game to another level, you are experiencing both character's inside and outside world The graphics are gorgeous too.

…

Expand

Ninja Theory gives exactly what they promised! Epic story, beautiful visuals, triple a quality. Great experience especially for this price! I

Ninja Theory gives exactly what they promised! Epic story, beautiful visuals, triple a quality. Great experience especially for this price! I really recommend checking out the dev diaries on youtube before jumping into the game, so you could appreciate the game even more.

…

Expand

You should play this game if: You are into narrative driven games, you enjoy exploring complex character background in a beautiful, haunting

You should play this game if: You are into narrative driven games, you enjoy exploring complex character background in a beautiful, haunting setting.

You shouldn't play this game if: You're in it for the gameplay. You enjoy technical challenges to your skill-level, you enjoy building characters in a complex game system or you just don't care about storytelling at all.

This is a real gem in the art of narrative game-design where the focus in on the visual and not only the textual which is refreshing to see.

Senua's Sacrifice focuses on internal narrative like many indie game titles these days but has a very modern graphic look and powerful soundtrack to support its story about panic, pain and psychosis. The game is around 10 hours long which is perfect length for a game like this that doesn't have sandbox worlds to explore or character creation and levelling to establish an evolving gameplay experience - the mechanics you start out with are more or less the same you end up with.

The incredible story and talent of the protagonist are what will carry you through this game and stay with you long after it's done. There really isn't enough good things to say about Senua as a character or indeed about how she's acted. She feels real and intense without losing credibility as a fierce warrior, her mental... issues are credible, unpleasant and sometimes eerie to play through. She's equally easy to sympathise with and admire.

The gameplay mechanics in Senua's Sacrifice revolves around simple but solid mechanics shifting from spacial puzzles to melee combat and back many times. The combat, while not amongst the most challenging of its kind, feels natural and flows well. It won't challenge a seasoned Witcher or Dark Souls veteran but it works well enough to not feel stale. The puzzles, as puzzles tend to do, can frustrate you if you missed some minor detail somewhere and get stuck but they're never unreasonable and the game helps you along very nicely if only you listen to all of the helpful (sometimes...) voices at your disposal.

However, the narrative is the jewel in this game accompanied by stunning visual arts and a terrific soundtrack. Senua is probably the best female hero-protagonist we've ever seen in gaming so far. She's got a simple, bold ambition - to save the boy she loved - and she travels to Hel to do it. As with many such titles, the game explores her personal history and background along the way and she faces externalised version of inner demons as tends to be the case in such stories, but she does it with tenacity, audacity and without compromise. When you control Senua, she feels vulnerable and powerful at the same time and it's easy to want to help her, not only out of sympathy but because she's inspiring and strong.

The Norse/Celtic setting works well enough - the Norse legends are recognisable to a Scandinavian and the world has a credible harsh and desolate feel.

All in all, Senua's Sacrifice doesn't try to do anything no one arguably hasn't done before, it just does it more beautifully, with superior acting and visuals. Where many narrative-focused games have drifted away from the film elements to a more minimalist, simplistic aesthetic, Senua's Sacrifice uses all the modern tools of visual storytelling to tell a memorable and inspired story.

…

Expand

This review contains spoilers

, click expand to view

.

The story is really well executed (especially with what it has to say about perspective) with one of the best audio designs in video game, a great soundtrack and an amazing performance by the lead actress. It's not a horror game but there are sections of the game that are terrifying and rely on your hearing to get to somewhere safe. The only negatives I can think of is that sometimes the puzzles can get a bit repetitive and the live action parts can be a bit cheesy.

…

Expand

I hate to give this game a low score...but my expectations were so high because of all the fuss surrounding It. Way too much positive review.

I hate to give this game a low score...but my expectations were so high because of all the fuss surrounding It. Way too much positive review. It's like a very beautiful 3rd person walking simulator with a powerful, sensible story and a boring implementation.
I can see why it's so acclaimed and if I hadn't expected perfection I would have probably enjoyd it...but the cycle of insipid puzzles and unfocused-uninspired battles just frustrated me.

Maybe after 2 hours it gets better.

…

Expand

This is not a game but a mess.
He wants to be something f()cking deep, but he doesn't go for it.
Apart from being immeasurably annoying itThis is not a game but a mess.
He wants to be something f()cking deep, but he doesn't go for it.
Apart from being immeasurably annoying it is not fun because the game content is 0.
A typical example is when they want to sell anything with graphics and a lot of tech ****
It can't be said to be so beautiful today.
I think it's a boring crap.

…

Expand