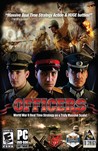 Summary:

Officers puts you in command of the Allied force in the largest conflict of our time. Take control of the US and British armies in order to strike back and defeat the Axis menace on the Western front of Europe. With over 1500 units on maps up to 10 square miles, Officers is the first WWII

Officers puts you in command of the Allied force in the largest conflict of our time. Take control of the US and British armies in order to strike back and defeat the Axis menace on the Western front of Europe. With over 1500 units on maps up to 10 square miles, Officers is the first WWII real time strategy game to let you fight on a truly massive scale. Historical battles like Operation Overlord, Millennium, and Cobra will put your tactical skills to the test using combined forces from infantry. [Tri Synergy]

…

Expand
Developer:

3A Games

Genre(s):

Strategy

,

Real-Time

,

Historic

,

General

,

Historic

# of players:

6 Online

Cheats:

On GameFAQs

Rating:

E10+
The game has been out in Russia for almost two years and now proves to be an insiders' tip. The maps are huge, up to 25 square kilometers and there are up to 1.500 units on them. The graphics are dated, the background music can be annoying, but the game itself is thrilling and offers a lot of tactical depth.

Like a decent enough war movie then, it's something that you can sit and occupy yourself with on a lazy Sunday afternoon, but not something that's going to last for long as a truly memorable experience.

There's plenty of potential in the Officers franchise. Few games manage to capture WW2 this well at the tactical level. But a few problems with friendly AI and stability do drag the score down somewhat.

At root, this is another "Blitzkrieg" ringer. [Aug 2009, p.89]

This is one of the worst types of tragedies that can befall a game – to be brimming with potential and fun gameplay, only to get ruined with technical blunders.

Officially generic. [Oct 2009, p.70]

Officers boasts some interesting strategic considerations, including a focus on reconnaissance and realistic supply concerns, which have been lacking in recent RTS games. However, the practically nonexistent multiplayer, the punishing difficulty, the exhaustingly long missions, and a few other annoyances make it a difficult game to recommend.
I have bought the game for 149 CZK (about 6 EUR) and I was really surprised. The game introduces 6 missions for Allies from Normandy to heart

I have bought the game for 149 CZK (about 6 EUR) and I was really surprised. The game introduces 6 missions for Allies from Normandy to heart of Germany. The positive thing is huge maps, requisition of new units based upon your progress (you do not have to capture all enemy locations, but the more you capture, the more units you can field), quite good cooperation of armors and infantry (you need to make a recon using a scout infantry as your tanks do not see so far and ca easily be killed by hidden AT guns or panzers). The number of units you can use is also sufficient. Regarding the graphics, it is not top of the line, but also is not the worst I have seen. I would say it is quite sufficient. In a summary, the game certainly kept me entertained for many days and I can recommend it to everyone who likes a good and somewhat realistic strategy.

…

Expand

This game is just horrible. I feel like I'm playing a game back in 1995 when I play this game, Just horrible. Should have known not to

This game is just horrible. I feel like I'm playing a game back in 1995 when I play this game, Just horrible. Should have known not to listen to the critics and buy this sorry game on steam, now I'm out of 30 bucks and stuck with a worthless waste of space on my hard drive. At leased I've have a 30 dollar coaster if i bought it from a retailer, that or I'd have a pretty good shot at being about to return this junk game. Just a Garbage title, don't waste your time and for God sacks read the user reviews before you buy and not the critics.

…

Expand