| Solar Ash | Battlefield 2042 | Forza Horizon 5 |
| --- | --- | --- |
| | | |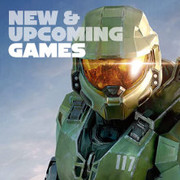 Find release dates, trailers, and scores for major upcoming and recent videogame releases for all platforms, updated weekly.
1.

Forza Horizon 5

Your Ultimate Horizon Adventure awaits! Explore the vibrant and ever-evolving open world landscapes of Mexico with limitless, fun driving action in hundreds of the world's greatest cars.

2.

SNK vs. Capcom: Match of the Millennium

It's history in the making when 2 premiere arcade game giants settle the score. The greatest fighters of all time will be crowned when 18 of SNK's and Capcom's most popular characters collide. It's the best of both worlds: fighters, techniques and formats.

3.

Fights in Tight Spaces

A stylish blend of deck-building, turn-based tactics, and thrilling animated fight sequences in classic action-movie settings. Learn to balance your hand, momentum, and positioning to overcome the odds to defeat your adversaries. Build your deck, control the space and live to fight another day.

4.

Flynn: Son of Crimson

Help Flynn and his mythical companion Dex save Rosantica before the evil from The Scourge claims his home. In Flynn: Son of Crimson, you'll go on a journey of discovery and conflict as you learn to master the power of Crimson Energy.

5.

Deathloop

If at first you don't succeed Die, Die Again. From the team at Arkane Lyon comes an innovative take on first-person action. "DEATHLOOP" transports players to the lawless island of Blackreef in an eternal struggle between two extraordinary assassins. Explore stunning environments and meticulously designed levels in an immersive gameplay experience that lets you approach every situation any way you like. Hunt down targets all over the island in an effort to put an end to the cycle once and for all, and remember, if at first you don't succeed die, die again.

6.

The Last Friend

Doggone tired of the typical brawler or tower defense that is all bark and no bite? Then join Alpha and T. Juan on a dynamic adventure that has you battling hordes of baddies and bosses on their mission to save all the Doggos!

7.

Football Manager 2022

M22 brings new, progressive ways to find that winning edge, instil your footballing style and earn it for the fans. Pack includes an FM 'Coaching Planner' to take your tactical planning and squad building to the next level. Football isn't just about winning - it's about overcoming the odds and earning your success. Fighting your way to the top or clawing your way back from the brink; these are the moments that taste sweetest. In Football Manager 2022, you're the architect of your club's destiny - the fans' fortunes rest with you. Prevail in the moments that matter to turn their dreams into reality and earn your place alongside the managerial greats.

8.

Final Fantasy IV Pixel Remaster

FINAL FANTASY IV delivers one of the richest and most powerful stories in the series. It's filled with characters and scenarios that fans continue to love to this day. It focuses on the dark knight Cecil, who finds himself stripped of his position and rank when he questions his king's increasingly troubling orders. When he's sent on a simple delivery mission with his friend Kain, the shocking events that follow send him and a group of allies on an incredible journey of betrayal, love and redemption. This is the first game to feature the Active Time Battle (ATB) system, which combines turn-based and real-time elements to create fast-paced and strategic combat.

9.

NEO: The World Ends With You

"Only the possibility of you can change our fate." A long-awaited new story in The World Ends with You series has finally arrived! Rindo comes to the grim realization that his life is on the line when he is forced to compete in the so-called "Reapers' Game." There's no telling how this tale will unfold - but it's up to you to find out! Put your psychic prowess to the test as you duke it out on the stylishly animated streets of Shibuya.

10.

Inscryption

Inscryption is an inky black card-based odyssey that blends the deckbuilding roguelike, escape-room style puzzles, and psychological horror into a blood-laced smoothie. Darker still are the secrets inscrybed upon the cards...