| Outer Wilds | Warhammer: Chaosbane | Octopath Traveler |
| --- | --- | --- |
| | | |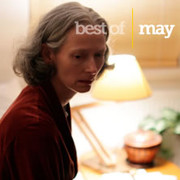 Did you miss anything? These were the best movies, albums, video games, and TV shows debuting in May 2019.
1.

Sekiro: Shadows Die Twice

Release Date:

March 22, 2019

Your death won't come easily. Enter the world of late 1500s Sengoku Japan; a brutal, bloody period of constant life-and-death conflict. As tensions rise, a compelling new story unfolds amongst the chaos. Introducing Sekiro: Shadows Die Twice, a dark and twisted new gameplay experience developed by the renowned team at FromSoftware and published by Activision. Directed by Hidetaka Miyazaki, Sekiro: Shadows Die Twice is a third-person, action-adventure game with RPG elements. The single-player game puts players in the protagonist role of a hard-hearted warrior whose mission is to rescue his master, a young lord, and exact revenge on his arch nemesis. As "Sekiro," or the "one-armed wolf," players discover the many ways to strategically approach combat and engage enemies. [Activision]

2.

Hell is Other Demons

Release Date:

May 20, 2019

Hell is Other Demons is a juicy arcade shooter with bold color schemes and a heavy synthwave soundtrack.

3.

Total War: Three Kingdoms

Release Date:

May 23, 2019

Total War: THREE KINGDOMS is the first in the award-winning series to recreate epic conflict across ancient China. Combining a gripping turn-based campaign of empire-building & conquest with stunning real-time battles, THREE KINGDOMS redefines the series in an age of heroes & legends.

4.

Outer Wilds

Release Date:

May 30, 2019

Outer Wilds is an open world mystery about a solar system trapped in an endless time loop.

5.

Irony Curtain: From Matryoshka with Love

Release Date:

May 16, 2019

Irony Curtain: From Matryoshka with Love is a satirical point and click inspired by the classic adventure games. It smuggles you out of your comfort zone and throws you into the middle of a Cold War spy intrigue - where there's an even bigger game being played...

6.

Katana ZERO

Release Date:

April 18, 2019

Slice through time to take back what's rightfully yours in a neo-noir, instant-death action platformer.

7.

Yakuza Kiwami 2

Release Date:

May 9, 2019

SEGA proudly presents Yakuza Kiwami 2, one of the most beloved story lines in the franchise's history, remade in full HD for the PlayStation 4. One year after the 10 billion yen incident, Kazuma Kiryu begins to build a peaceful life with Haruka Sawamura. Tearing him away, an assassination threatens to erupt in an all-out war between the Tojo Clan and the Omi Alliance. Kiryu, the Dragon of Dojima, must travel to Sotenbori, Osaka in an attempt to broker peace between the rival clans, but Ryuji Goda, known as the Dragon of Kansai, will stop at nothing to get his war. In this world, there can only be one dragon.

8.

Yuppie Psycho

Release Date:

April 25, 2019

Join Brian Pasternack on his first day at one of the world's largest companies, Sintracorp. Uncertain, unprepared, and massively unqualified, will Pasternack have what it takes to shine in Sintracorp's hierarchy? It all depends on how he performs on his first assignment… and whether he survives it.

9.

ISLANDERS

Release Date:

April 4, 2019

ISLANDERS is a minimalist strategy game about building cities on colorful islands.

10.

SpellForce 3: Soul Harvest

Release Date:

May 28, 2019

Three years after the Purity Wars, Nortander is on the cusp of a new era.