| Watch Dogs: Legion | Ghostrunner | The Dark Pictures - Little Hope |
| --- | --- | --- |
| | | |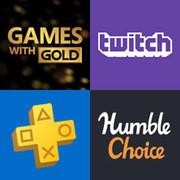 A frequently updated list of free games available from Epic Games Store, PS Plus, PS Now, Xbox Game Pass, Xbox Games With Gold, Twitch/Prime, Humble, EA/Origin Access, IndieGala, Steam, and other services.
1.

Factorio

Factorio is a game about building and creating automated factories to produce items of increasing complexity, within an infinite 2D world. Use your imagination to design your factory, combine simple elements into ingenious structures, and finally protect it from the creatures who don't really like you.

2.

Hades

Defy the god of death as you hack and slash your way out of the Underworld in this rogue-like dungeon crawler from the creators of Bastion and Transistor.

3.

Microsoft Flight Simulator

From light planes to wide-body jets, fly highly detailed and accurate aircraft in the next generation of Microsoft Flight Simulator. Test your piloting skills against the challenges of night flying, real-time atmospheric simulation and live weather in a dynamic and living world.

4.

Spelunky 2

Spelunky 2 builds upon the unique, randomized challenges that made the original a roguelike classic, offering a huge adventure designed to satisfy players old and new. Meet the next generation of explorers as they find themselves on the Moon, searching for treasure and missing family.

5.

Crusader Kings III

Paradox Development Studio brings you the sequel to one of the most popular strategy games ever made. Crusader Kings III is the heir to a long legacy of historical grand strategy experiences and arrives with a host of new ways to ensure the success of your royal house.

6.

There is no game : Wrong dimension

There is no game. So don't go messing things up by clicking everywhere. You don't want to be kicked out of your video game world, do you? Of course not!

7.

Inertial Drift

Forget everything you know about drifting. Inertial Drift tears up the racing rule book with innovative twin-stick controls, completely re-imagined driving mechanics and a roster of fiercely individual cars.

8.

Tony Hawk's Pro Skater 1 + 2

Drop back in with the most iconic skateboarding games ever made. Play Tony Hawk's Pro Skater & Tony Hawk's Pro Skater 2 in one epic collection, rebuilt from the ground up in incredible HD. All the pro skaters, levels and tricks are back and fully-remastered, plus more.

9.

Embracelet

Embracelet is an adventure game set in Northern Norway - a unique coming of age story about love, loss, friendship and family - and a magical bracelet with mysterious powers!

10.

Cook-Out: A Sandwich Tale

Set within the cook's cabin of a fairytale forest, Cook-Out: A Sandwich Tale is a wacky and whimsical adventure that challenges up to four players to work together to keep the orders coming for a hungry cast of enchanted creatures in this multiplayer VR title from Resolution Games. As players progress through increasingly hectic levels, they not only prepare meals but also need to fight off a number of nasty customers who seem absolutely set on making trouble -- like jesters who hide parts of orders, or thieves who keep pilfering ingredients. While the game is focused on cooperative play, solo players are able to enjoy the experience with the help of a simulated partner, making sure there's always a team to tackle tough orders and restore the calm to this wild kitchen.