| DOOM Eternal | Half-Life: Alyx | Resident Evil 3 |
| --- | --- | --- |
| | | |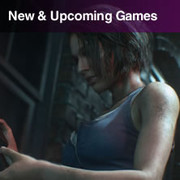 Find release dates, trailers, and scores for major upcoming and recent videogame releases for all platforms, updated weekly.
1.

Half-Life: Alyx

Half-Life: Alyx is Valve's VR return to the Half-Life series. It's the story of an impossible fight against a vicious alien race known as the Combine, set between the events of Half-Life and Half-Life 2. Playing as Alyx Vance, you are humanity's only chance for survival. The Combine's control of the planet since the Black Mesa incident has only strengthened as they corral the remaining population in cities. Among them are some of Earth's greatest scientists: you and your father, Dr. Eli Vance. As founders of a fledgling resistance, you've continued your clandestine scientific activityperforming critical research, and building invaluable tools for the few humans brave enough to defy the Combine. Every day, you learn more about your enemy, and every day you work toward finding a weakness. ABOUT GAMEPLAY IN VR: Valve's return to the Half-Life universe that started it all was built from the ground up for virtual reality. VR was built to enable the gameplay that sits at the heart of Half-Life. Immerse yourself in deep environmental interactions, puzzle solving, world exploration, and visceral combat. Lean to aim around a broken wall and under a Barnacle to make an impossible shot. Rummage through shelves to find a healing syringe and some shotgun shells. Manipulate tools to hack alien interfaces. Toss a bottle through a window to distract an enemy. Rip a Headcrab off your face and throw it at a Combine soldier. Extra content for Index owners Customers who have purchased Valve Index hardware by the end of 2019 will have access to unique bonuses starting early next year: * Explore environments from Half-Life: Alyx in your SteamVR Home space * Alternate gun skins to embellish Alyx's arsenal * Special Half-Life: Alyx-themed content for Counter-Strike: Global Offensive and Dota 2 Community-built environments * A set of Source 2 tools for building new environments will ship with the game, enabling any player to build and contribute new environments for the community to enjoy. Hammer, Valve's level authoring tool, has been updated with all of the game's virtual reality gameplay tools and components.

2.

Ori and the Will of the Wisps

The little spirit Ori is no stranger to peril, but when a fateful flight puts the owlet Ku in harm's way, it will take more than bravery to bring a family back together, heal a broken land, and discover Ori's true destiny. From the creators of the acclaimed action-platformer Ori and the Blind Forest comes the highly anticipated sequel. Embark on an all-new adventure in a vast world filled with new friends and foes that come to life in stunning, hand-painted artwork. Set to a fully orchestrated original score, Ori and the Will of the Wisps continues the Moon Studios tradition of tightly crafted platforming action and deeply emotional storytelling.

3.

DOOM Eternal

DOOM Eternal is the direct sequel to 2016's DOOM. Developed by id Software, DOOM Eternal delivers the ultimate combination of speed and power, along with the next leap in push-forward, first-person combat. As the DOOM Slayer, you'll return to take your vengeance against the forces of Hell. Set to an all-new pulse-pounding soundtrack composed by Mick Gordon, you fight across dimensions as you slay new and classic demons with powerful new weapons and abilities. [Bethesda]

4.

Monster Hunter: World - Iceborne

Monster Hunter World: Iceborne is the highly anticipated massive expansion to Monster Hunter: World, the best-selling Capcom title of all time with more than 12 million units shipped worldwide adding to the series total of more than 53 million units to date. This gargantuan follow-up rivals the gameplay volume from the original release and features a new icy setting, storyline, monsters, gameplay options, and more. The game's all-new story picks up after Monster Hunter: World and whisks hunters away to the newly discovered chilly locale that, once fully explored, becomes the largest region in World so far. The new locale is home to several new and returning monsters ready to challenge hunters throughout their expeditions and raises the stakes with the added higher difficulty Master Rank. Iceborne continues the skill-based progression and robust crafting system found in World and expands that with several new gameplay features that broaden the player's combat repertoire. All this leads to the ultimate hunter test against the mysterious new flagship monster, Velkhana.

5.

Ghost Giant

6.

Mythic Ocean

Teach the gods to create a better universe - or mess it all up in Mythic Ocean, a narrative exploration game where your choices shape the fate of the cosmos.

7.

Panzer Corps 2

Panzer Corps 2 is the ultimate Second World War strategy game! Enjoy the time-proven gameplay formula which has been appreciated by millions of players over the years, brought to a whole new level of refinement up to the latest technical standards.

8.

Lair of the Clockwork God

A fast-paced Point-and-Click adventure AND an indie platfomer in one! Join adventurer Ben and wannabe indie darling Dan in a race against time to stop all the Apocalypses happening at the same time.

9.

The Room VR: A Dark Matter

The British Institute of Archaeology, London, 1908: The disappearance of an esteemed Egyptologist prompts a Police investigation into the unknown. Explore cryptic locations, examine fantastic gadgets and uncover an otherworldly discovery which blurs the line between reality and illusion. Designed from the ground up for the unique capabilities of virtual reality, players can inhabit the spine-tingling world of The Room and interact with its strange contraptions in this compelling new chapter.

10.

BEAUTIFUL DESOLATION

BEAUTIFUL DESOLATION is a 2D isometric adventure game set in the distant future. Explore a post-apocalyptic landscape, solve puzzles, meet new friends and make powerful enemies, mediate conflicts and fight for your life as you unravel the secrets of the world around you.