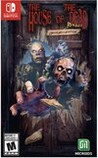 Summary:

Nobody leaves here alive!

The House of the Dead: Remake is a remade version of the game introduced in 1997 in arcade platform. A classic arcade rail-shooter receives a whole new entourage and gameplay changes to suit modern gaming standards. * Hordes of the undead monstrosities in aNobody leaves here alive!

The House of the Dead: Remake is a remade version of the game introduced in 1997 in arcade platform. A classic arcade rail-shooter receives a whole new entourage and gameplay changes to suit modern gaming standards.

* Hordes of the undead monstrosities in a fast-paced rail-shooter.
* True to the original gameplay.
* Well known arcade classic with modern graphics and controls.
* Multiple endings.

…

Expand
Developer:

MegaPixel Studio

Genre(s):

Action

,

Shooter

,

Light Gun

# of players:

No Online Multiplayer

Cheats:

On GameFAQs

Available On:

Stadia

Rating:

M
It's not only about the nostalgia. The House of the Dead Remake brings new graphics, game modes and optimized physics. Unfortunately, though, it remains it's still in a comfort zone, where there is no boldness or space for new content.

The House of the Dead Remake is everything you'd expect from a revamp of an old-school 90s zombie rail shooter. It's fun, all too brief, but still provides enough entertainment solo or with a mate in tow. However, it still feels like a missed opportunity to stuff it full of some worthwhile new content.

Even with the control issues, The House of the Dead: Remake is good fun. And while a playthrough will take you less than an hour, this is the type of game you'll come back to time and time again. MegaPixel Studio has done a good job of bringing new life to a classic, even though its work is somewhat sabotaged by the fact that modern TVs have made traditional light guns defunct. Let's just hope that a solution is found, and soon. But until then, blasting zombies with a controller will suffice.

The House of the Dead: Remake is a faithful port of a classic light gun game. The graphics have been improved a lot and there is plenty of replay value for what is ultimately a short arcade experience. Unfortunately none of the controller options come close to how it was originally meant to be played.

A short, schlocky blast from the past with some welcome modern additions, but hardcore fans may prefer to track down an original arcade cabinet instead. [Issue#15, p.86]

The House of the Dead: Remake is a lukewarm game that lives on reflected light and has several glitches in the control system. Only for those who sleep with a light gun under their pillow.

It's a valiant effort, and an impressively authentic recreation all-in-all, but it just doesn't hold up from a modern perspective – especially without a lightgun in-hand.
On the whole, "The House of the Dead: Remake" has become a rather mixed title for the PlayStation 4. While the story and campaign can also

On the whole, "The House of the Dead: Remake" has become a rather mixed title for the PlayStation 4. While the story and campaign can also propel you through the game, after a while the controls and gameplay just get annoying. In addition, there are also weak controls and very simple graphics. Those who would like to experience a bit of arcade again are welcome to buy "The House of the Dead: Remake" as a cheap title, but all other gamers should think twice about buying it. In the new contents of the Limidead Edition, you also get, besides the game, exclusive 3D wiggle picture box, two cardboard standees and a sticker sheet. There would have been more here!

…

Expand

Fun and easy game to play either alone or with a buddy. Few different modes/modifiers to keeps things interesting. Very intricate in terms of

Fun and easy game to play either alone or with a buddy. Few different modes/modifiers to keeps things interesting. Very intricate in terms of how many routes the game has to offer despite it being minor changes for the most part. Also good variety of settings to mess and tinker with. Game runs well and plays fine however it feels too short and felt like more could've been added to this.

…

Expand

The most precise 5 I could give to a game. Is it impossible to enjoy the game? Not at all. But it has just so many flaws. Lighting is

The most precise 5 I could give to a game. Is it impossible to enjoy the game? Not at all. But it has just so many flaws. Lighting is ridiculously bad (making gameplay painful at times because of strange overshadowed rooms where you can't see a crap even with the brightness at max), impacts on enemies feel soft, ragdoll physics are implemented in a way it doesn't add much to the experience, framerate is unstable, it's not compatible with guns (I can play 1 player with a Sinden, but not 2 player at least until someone patches it from outside),..

I mean... seriously, install an emulator and play the original instead. Yeah, graphics are superdated but it FEELS good, and that's what is important on one of these games.

…

Expand

This game is a fantastic nostalgia trip… for 45 minutes!!!

While I wouldn't expect any more given it's a remake, for the price point itThis game is a fantastic nostalgia trip… for 45 minutes!!!

While I wouldn't expect any more given it's a remake, for the price point it should have included some more in the series. Wait for a sale.

…

Expand

The game is very poorly optimised and has frame rate issues. The controls are horrendous! Quite painful to play. Very poor support overseas as

The game is very poorly optimised and has frame rate issues. The controls are horrendous! Quite painful to play. Very poor support overseas as well as some of my friends were saying that there is no asian PS4 version. This developer does not deserve your money.

…

Expand