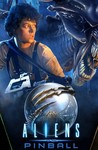 Summary:

Survive Xenomorph encounters in three thrilling pinball tables inspired by the ALIEN franchise.
- Join Ellen Ripley as she confronts the Alien Queen and helps the Colonial Marines eliminate LV-426's alien infestation on the Aliens Pinball table
- Help Amanda Ripley survive theSurvive Xenomorph encounters in three thrilling pinball tables inspired by the ALIEN franchise.
- Join Ellen Ripley as she confronts the Alien Queen and helps the Colonial Marines eliminate LV-426's alien infestation on the Aliens Pinball table

- Help Amanda Ripley survive the dangerous halls of Sevastopol Station while evading a merciless Xenomorph on the Alien: Isolation Pinball table

- Defeat Xenomorphs, rise in the ranks of Yautja society, and choose your allies wisely on the Alien vs. Predator Pinball table

- Listen to original voiceovers and sound effects directly pulled from the ALIEN franchise

- Leaderboards, score tracking, exciting social features, and more

…

Expand
Developer:

Zen Studios

Genre(s):

Action

,

Pinball

Cheats:

On GameFAQs
Please enter your birth date to watch this video:
You are not allowed to view this material at this time.
Zen Pinball 2 - Bethesda Pinball
These tables are so beautifully designed with all kinds of challenging scoring opportunities.

Zen Studios has a knack for creating licensed pinball tables. With this outing, they've managed to capture the feel of Alien while also making three fun pinball tables that will keep you playing for months to come.

These are some really well made pinball tables wrapped around one of the best horror/sci-fi franchises ever created.

If you're a fan of the Alien franchise and pinball, this is a must buy.

It manages to encompass some of my favourite movies with one of my most beloved genres. Not only does it do it well but it also adds a few new interesting features which I look forward to seeing in any future titles they do.

Like the majority of tables they release, the Aliens Pinball Pack is an overall positive for pinball fans. It does a great job of capturing the essence of the licensed properties, and Zen Studios goes above and beyond with the actual Aliens table by using the voices from the movie itself.

Tables are designed well, being easy enough for casual pinball players but challenging at the same time to satisfy those who have played pinball games. It does tend to lean more towards the easier side, but not by much. Easy to play, creepy tone, and addictive gameplay all combine in this set, making it the perfect way to get your pinball fix and celebrate Alien Day.
The Good

The three new tables presented here are the same high quality that Zen has been making for years. They use original audio from theThe Good

The three new tables presented here are the same high quality that Zen has been making for years. They use original audio from the movies and game to bring you into each table, and it works great. Hearing the characters scream with dialogue from the movies and game makes you want to keep putting in more quarters start a new game each time you run out of balls.

Each table has multiple missions to complete, and hidden areas that make standard tables inferior. I would love to see a real life table this complex.

The Bad

My only complaint, and this has been the case since the game was ported to the One, is that there is only one achievement per table, and each of the achievements are not something a beginner could do. I hope that for future tables they go back to 3 achievements per table, with varying degrees of difficulty.

The Achievements

With only one achievement per table, it may take players some time to unlock all three, as they require complex tasks, and require you to know your ramps and table locations.

In the Aliens table, you must play on mission 3, Ulterior Motives, and defeat both Facehuggers. Luckily, you can enable mission select for the table, so as soon as you hit the mission marker you can select mission 3. Unfortunately, you only get one shot at it, and if you lose a ball, you will need to start the game over in order to select mission 3 again.

The AvP table requires you to rank up. I wasn't able to unlock it during my playthroughs for my review, but it is probably the easiest of the 3. The final achievement is for performing 20 stealth takedowns on the Alien Isolation table, and I'm not sure what is required for this.

I played each table for around an hour a piece, but wasn't able to unlock any achievements. With some practice, and maybe a guide, I can probably unlock them at a later point

Final Verdict

Other than the achievement complaint, these are solid tables for anyone that enjoys pinball, and especially for fans of the Alien franchise. I recommend this DLC and at $9.99, it is standard pricing for similar table packs. I look forward to the next high quality DLC from Zen Studios.

…

Expand