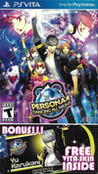 Summary:

Persona 4: Dancing All Night is a story-driven music game of Persona 4, developed by ATLUS. Replacing the RPG elements are dance battles that challenge players' dexterity and accuracy as they tap out re-mixes of fan-favorite themes and brand new music tracks.
Developer:

Atlus, Dingo Inc.

Genre(s):

Miscellaneous

,

Action

,

Rhythm

,

Music

# of players:

No Online Multiplayer

Cheats:

On GameFAQs

Rating:

T
Please enter your birth date to watch this video:
You are not allowed to view this material at this time.
Persona 4: Dancing All Night - Teddie Trailer
There's a narrative that not only follows on from one of the finest stories ever written (and I'm not just talking in terms of video games) but succeeds in actually enhancing it. The soundtrack is absolutely incredible and does some amazing things in remixing music that was already peerless.

A hugely successful departure from established formula, Persona 4: Dancing All Night is further proof that Atlus can take the franchise anywhere.

Atlus somehow finds a way to craft a music game based around Persona 4 and have it end up as a serious entry to the rhythm genre. Persona 4: Dancing All Night is a great experience, with gameplay, visual, and a soundtrack that all come together in one heck of a package.

Like Theatrhythm Final Fantasy, this is a game that is simplistic in concept but catered heavily toward fans of the series. Yet unlike Theatrhythm's serviceable-yet-sterile insert of characters and compositions, Dancing All Night goes the extra mile to ensure that Persona 4's beloved cast bring their A-game to this endearing love letter in addition to its plethora of toe-tapping remixes.

A good game with average visuals. Although it may seem easy to play, it's hard to master. Probably it's weakest aspect is that it abuses certain songs instead of different ones that give the game some variety.

Dancing All Night is a decent story-driven rhythm game that every Persona fan should play.

Dancing All Night might have sounded like a fun idea on paper, but it simply doesn't hold a candle to better portable rhythm games.
I've never touched a rhythm game before in my life (at least not one with a controller- DDR/dance games I'd consider different), and really,

I've never touched a rhythm game before in my life (at least not one with a controller- DDR/dance games I'd consider different), and really, never thought there was any appeal to it.

Part of my enjoyment of this game absolutely comes from how much I love Persona 4- the music, graphics, story, everything. P4D is no different.

If there's one thing missing, it's the choice of P4- the story in this game is linear and pays an homage to the original story rather than doing its own, so one cannot expect the same level of depth.

That's about it for criticisms though- and frankly I don't think a spin off is going to be overly deep- I wouldn't take points away from Mario Kart because it focuses solely on racing (not that Mario had much story, but you get the point).

The game has great, complete voice acting, vibrant graphics, excellent controls and is far more entertaining than I'd expected a rhythm game could be.

I'd recommend giving it a try unless you're staunchly against rhythm games- though, do make sure to play Persona 4 first, chances are if you don't enjoy P4 you won't see much to this game (unless you really love rhythm games I suppose.)

Got the platinum, enjoyed every minute of it- would happily play again.

…

Expand

I love this game soo much! Persona 4 Series really has changed my life, and I feel very grateful for that.

Saw Margaret dancing 10/10. But in all seriousness, really fun game for fans of the persona series I'm doubtful that the game will be as

Saw Margaret dancing 10/10. But in all seriousness, really fun game for fans of the persona series I'm doubtful that the game will be as enjoyable for people without background knowledge of what's going on. Really enjoy the gameplay it's not as challenging as others in the category but that can be a draw for some.

…

Expand

Persona 4: Dancing All Night is an incredible continuation of the Persona 4 story. This is a story driven rhythm game where the events and

Persona 4: Dancing All Night is an incredible continuation of the Persona 4 story. This is a story driven rhythm game where the events and dialogue are delivered in a visual novel style. The themes are similar to those of Persona 4, with a little more emphasis on individuality and self expression. Yu Narukami and his friends are back up dancers for Rise Kujikawa and are preparing to support her in her come back performance. The plot develops as Yu, his friends, and other idols are pulled into a mysterious midnight stage similar to the midnight channel, but where no fighting is allowed. It is in this place where the characters must use the power of dance to fight off shadows. As cheesy as this sounds, the game does a great job further exploring themes in Jungian psychology that were present in the original game. The dance sequences are well choreographed, and have an amazing soundtrack to match. One of my biggest complaints is for a rhythm game, it doesn't have nearly enough songs. I personally love each and every track, but for a fifty dollar title, I would definitely expect more game play. However, this game is focused mostly on story, which I think it does a great job delivering; although some of the dialogue segments mid game felt slow and repetitive. Ultimately, if you're a Persona 4 fan, you'll love how well they've honored and brought back the original cast, as well as kept true to many of the original themes. However, if you've never played persona 4, there are too many nuances that you won't pick up on, and many references to the original game that won't make sense to you. I personally loved this game, but be aware that this is a niche titled designed for a specific audience.

…

Expand

I'll list my theee of my favorite games so you will know what kind of gamer is writing this review.

Danganronpa  Fire Emblem  AtelierI'll list my theee of my favorite games so you will know what kind of gamer is writing this review.

Danganronpa 
Fire Emblem 
Atelier Totori

THE GOOD:

GRAPHICS: Awesome look. The lips move strangely though. Not like Persona Arena where as they move very fast but they move rather slow and roboticly. 

STORY: An ok storyline but not great by any means. 

GAMEPLAY: Fun gameplay. Challenging at times but difficulty can be tuned down if need be. 

VOICE ACTING: Voice acted almost continously. Excellent voice acting for the most part.

MUSIC: Great music, the special box edition come with two cds which contain a total of about 60 tracks. About 10 of those are 20 second tracks that are a small solo. 

THE BAD:

Naoto has a new voice actor. Immediatly apparent if you are a Persona fan. Hated the change over myself. The new voice actor has more of a boy like tone. Similar to Ken from Persona Ultimax. 

GAME LENGTH: Short story mode. About 10 hours total. 

Thats about it. Hope it helps. 

…

Expand

Simple game, but it makes you want to play again and again for its great soundtrack, based on a great game that, if you have played, you will

Simple game, but it makes you want to play again and again for its great soundtrack, based on a great game that, if you have played, you will want to play with its characters, only this time, dancing.

It includes its own story and that is always appreciated, even if it is a little crazy.

Very enjoyable if you like this type of games.

…

Expand

Eh..the game works I guess but a dancing Persona game still makes absolutely no sense