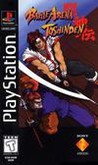 Developer:

Tamsoft

Genre(s):

Action

,

Fighting

,

3D

# of players:

1-2

Cheats:

On GameFAQs

Rating:

T
The lack of combos is a real problem, making it tough to string together decent attack patterns and this is a real boo-boo for a beat ''em-up. Shame really, because if more effort had gone into polishing up the gameplay by simply making sure there was more to it, Battle Arena Toshinden would have been a blinding piece of software.

With unbelievable sweep kicks, rapid-fire hits, sky-high jumps, killer slaps and combos, and a whole host of weapons and special moves, Battle Arena Toshinden sets a new stage in gaming for the PlayStation revolution.

Tamsoft added one little move to the characters' repertoires, and that one little move changed the fighter forever. Behold: the sidestep!

The game controls quite sluggishly. It often seems that there is a delay between what you are pressing on the controller and what is occurring on-screen. I was a relative novice to 3D fighting games back in those days, but now I know that such poor responsiveness can kill a fighting game.
I will try my best to put the nostalgia googles off but... This is one of the very first games I ever bought for the playstation 1 back in the

I will try my best to put the nostalgia googles off but... This is one of the very first games I ever bought for the playstation 1 back in the 1998. Toshinden is one of the early games of the platystation 1, released in 1995, it diverges from the traditional 2-d fighting games introducing a 3d environment where players can move on the z axis. Adding another dimension is vital to dodge special moves. This game is also interesting because every character has its own weapon, from blade to gun, in addition to classic kicks. I loved it as a kid because every fighter felt different and balanced, also the last boss (and secret boss) has a remarkable battle theme. It's a classic gem from the past and everyone should play it.

…

Expand

very underrated wish there is a remake or sequel. every time they shouted out their move name before the special move was very cool

L'un des jeux phares des débuts de la PS1 : plus original que Tekken et très beau pour l'époque. On pouvait profiter du troisième axe avec les

L'un des jeux phares des débuts de la PS1 : plus original que Tekken et très beau pour l'époque. On pouvait profiter du troisième axe avec les esquives latérales, enfin un jeu de baston qui occupait tout le terrain. Hélas, beaucoup de limitations la faute à une jouabilité très perfectible. Il a fallu attendre Soul Calibur pour avoir un jeu bien géré à cet égard... mais ce n'était pas sur la PS1 !

…

Expand

It is the worst garbage that I have played the combat system the combos are bad they lower you half your life from a single special attack the

It is the worst garbage that I have played the combat system the combos are bad they lower you half your life from a single special attack the soundtrack is terrible the boss is super unfair and unrealistic that but good points I read that the boss is unfair but it's rubbish it's good for its time

…

Expand