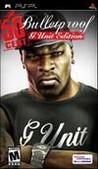 Summary:

Run the streets of New York as 50 Cent and G Unit as you seek revenge against those who shot you and left you for dead. Shoot, punch and throw enemies through 16 different levels featuring all new gameplay, over 30 new counterkill moves and a wide variety of firearms and melee weapons.

Run the streets of New York as 50 Cent and G Unit as you seek revenge against those who shot you and left you for dead. Shoot, punch and throw enemies through 16 different levels featuring all new gameplay, over 30 new counterkill moves and a wide variety of firearms and melee weapons. Compete or cooperate in 5 different multiplayer modes for up to 6 players and customize your character with real world G-Unit clothing. Watch the exclusive G-Unit documentary available only on the PSP, or any of the 15 music videos or kick back and listen to over 160+ tracks of Classic, Current and Exclusive Music & Score. [Vivendi Games]

…

Expand
Developer:

High Voltage Software

Genre(s):

Action Adventure

,

Modern

,

General

,

Modern

# of players:

1-2

Cheats:

On GameFAQs

Rating:

M
Please enter your birth date to watch this video:
You are not allowed to view this material at this time.
50 Cent: Bulletproof Gameplay Movie 3
G-Unit Edition isn't the most competent top-down action game available on the PSP. However, if you're a fan of 50 Cent or his music, there is a lot of fanfare in the game.

Definitely a must-have for any Fiddy fan but if you're just concerned with the quality of the gameplay then I would recommend renting this one.

This type of game has been done so much better in the past and we just can't think of anything that makes it stand out – not even the tacked on multiplayer which feels like exactly that.

It's impossible to understand how the developers came so close to making a good game and then failed so thoroughly.

Fans of 50 Cent will find a lot to like about the loads of extra content available in Bulletproof but gamers will be disappointed by the repetitive and uninspiring action presented in this PSP game.

If only half of the verve present in the swooping camera zooms and snazzy editing of the cut-scenes had managed to jump to the five hours or so of actual playtime, this might have been a pretty cool game.

At every turn the game beats you over the head and inundates you with 50 Cent, both as a rapper and a brand, to the point where the whole experience comes off as one ridiculous narcissistic commercial.
Oh come on. This game wasn't that bad guys. OK not really good but it's a PSP game- and how many GOOD games are there on handhelds? But

Oh come on. This game wasn't that bad guys. OK not really good but it's a PSP game- and how many GOOD games are there on handhelds? But definitely could've been better.

…

Expand

I think that violence should be allowed in video games, but it is wrong when a REAL person is shown shooting people. It just provides the

I think that violence should be allowed in video games, but it is wrong when a REAL person is shown shooting people. It just provides the media more ammunition in their arguement against violent games.

…

Expand

I was disappointed, not the best game, not even a good game, I didn't enjoy this, actually I couldn't wait for it to be over, I

I was disappointed, not the best game, not even a good game, I didn't enjoy this, actually I couldn't wait for it to be over, I played it, didn't like it! The only reason to play this would be to burn time! I think I'd rather be watching the t.v guide for 10 hours, not the game for people who like action/shooting games, this game seemed rushed and in-complete, don't waste your money, if you like action/shooting games, shoot for grand theft auto san andreas, much better highly addictive game, with a good story, this game totally the opposite, if there was a -100 rating available I would give this game that rating.

…

Expand
| | |
| --- | --- |
| 74 | #74 Most Discussed PSP Game of 2006 |
| 15 | #15 Most Shared PSP Game of 2006 |