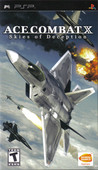 Summary:
With licensed aircraft such as the F-14D and Tornado F3, and a strategic AI system where the course of the player's actions directly affect their mission objectives, Ace Combat X: Skies of Deception allows the player to take on the role of an ace pilot trying to liberate his home country of Aurelia from its neighbor, Leasath. A country filled with secretive motives veiled behind long-internal conflicts, Leasath, has invaded and taken over Aurelia. Defending the invaded country, the player's mission is to take them to the battle-filled skies in order to take down the enemy and restore freedom and peace to his homeland. Rounding out the list of features, Ace Combat X: Skies of Deception allows players to tune their original aircrafts with parts unlocked in Campaign Mode to further enhance their flying experience. [Namco Bandai]
| | |
| --- | --- |
| Rating: | T |
| Developer: | Project Aces |
| Genre(s): | Simulation, Flight, Modern Jet, Modern Jet, Combat |
| Number of Players: | 1-4 Players |
| ESRB Descriptors: | Alcohol Reference Mild Language Violence |
| Connectivity: | Wi-Fi |
| Number of Online Players: | Up to 4 Players |
Designer/Producer/Programmer credits provided by
GameFAQs
.
If you contributed to this game and feel you should be credited, please read our
FAQ
.
| | |
| --- | --- |
| 41 | |
| 18 | #18 Most Discussed PSP Game of 2006 |
| 8 | #8 Most Shared PSP Game of 2006 |