Publisher:

Natsume

Release Date:

Oct 27, 2009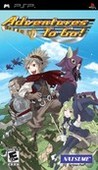 Summary:

In this hilarious and innovative strategy RPG, players take control of Finn Courtland and his band of misfits in their quest for fame and riches. Along the way, they just might have to save the world from the evil Arbitus and his demons. Each dungeon is randomly generated according to the

In this hilarious and innovative strategy RPG, players take control of Finn Courtland and his band of misfits in their quest for fame and riches. Along the way, they just might have to save the world from the evil Arbitus and his demons. Each dungeon is randomly generated according to the player's specifications, so the game offers endless replayability and a guarantee of new surprises every time you pick it up. Grid-based battles challenge players to think strategically. Control a diverse team of characters with unique spells and abilities. A huge variety of spells, weapons, and monsters. [Natsume]

…

Expand
Adventures To Go! is a great idea brought down by a sloppy execution.

Adventures to Go has some good ideas, such as generating your quests through building blocks in hopes of satisfying job requirements. But adventuring itself is slow – you walk around and fight some monsters while keeping an eye out for treasures and magical monoliths.

I liked Adventures to Go, though its flaws are hard to ignore. It's a good game to play when you've got a bit of time to kill or when you need a brief break from a more demanding title. AtG doesn't demand extensive commitment to have fun, but it also won't provide much for players looking for a meatier role-playing epic.

The gameplay is repetitive, but the novelty of surprises will keep you going. Very little replay value.

Playstation Official Magazine UK

Jun 19, 2011

Laborious menus. [July 2011, p.95]

Playstation: The Official Magazine (US)

The solid-but-typical action is grid-based, turn-taking RPG strategy, both customizable and redundant. [Jan 2010, p.87]

It's sad to see a game whose concept has a lot of potential but doesn't follow through with a better presentation.
A game on the lighter end of roguelikes, Adventures to Go is a game where you create you OWN dungeons... sort of. You can choose the number of

A game on the lighter end of roguelikes, Adventures to Go is a game where you create you OWN dungeons... sort of. You can choose the number of rooms, their style, their enemy type, how many special treasure chests they contain, and so on, but the actual LAYOUT of each room is randomly generated. Still though, that's a LOT of stuff to change! Through the story, you'll unlock new features to change and alter, making huge (and expensive) dungeons for you and your party of four to explore.

The story isn't much to talk about, but it's hardly offensive. It's very light-hearted, but gets a bit serious near the end. Nothing world-shattering, but there IS a character death that I bet you won't see coming. They didn't deserve it!

There's a lot of fun interactions between the characters, who you'll probably grow to like if not love. The main character, Finn (the FANTASTIC), is probably the best of them, and those who enjoy snarky protagonists will just adore him. He's witty but not an outright jerk. The other three party members are... fine. I don't have much to say about them, really.

Making dungeons to explore is a pretty sweet mechanic, though I must confess the layouts can get a bit dull over time. Regardless, it's a good time. Solid 8/10 in my humble opinion.

Oh, and remember you can switch characters on the field with the L/R buttons. Only Alina and Kat do anything on the field, though, so you'll be seeing them the most often. It's a shame; I wish Finn or Big Jack had some kind of field ability like the other two do.

…

Expand
| | |
| --- | --- |
| 56 | |
| 53 | #53 Most Discussed PSP Game of 2009 |
| 5 | #5 Most Shared PSP Game of 2009 |