Publisher:

Sega

Release Date:

Mar 20, 2007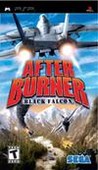 Summary:
The first arcade-style flight combat title exclusively for the PSP system, combining intensive air combat with a multitude of explosions that allow gamers to relive the experience of the classic After Burner arcade game. In addition to the in-depth customization of 19 officially licensed military planes, gamers can compete against friends via ad-hoc in a variety of multiplayer modes, and for the first time ever, fly solo in a story-rich single-player campaign. A terrorist cell called Black Falcon has infiltrated a top-secret CIA facility, escaping with 13 fighter jets. As a member of a highly classified military group, players must to do whatever is necessary to retrieve these fighter planes before they are sold to other terrorist cells. Utilizing an assortment of hi-tech planes such as the F-14D Tomcat, F-15E Strike Eagle, and F-22 Raptor, players engage in high-speed aerial combat as they dogfight their way through dangerous terrain to seek and destroy all terrorist targets. After Burner: Black Falcon takes flight with intense arcade-style air combat, where gamers fly at maximum speeds using high-powered weapons to destroy land and air-based enemies. With the robust customization, players can arm each military jet with an array of weapons, design customized aircrafts, and improve performance by installing a variety of engine components for faster, more maneuverable fighter planes. Players are also be able to acquire various weapons and aircraft by defeating squadrons of enemies and special bosses. [Sega]
Designer/Producer/Programmer credits provided by
GameFAQs
.
If you contributed to this game and feel you should be credited, please read our
FAQ
.
| | |
| --- | --- |
| 31 | |
| 89 | #89 Most Discussed PSP Game of 2007 |
| 49 | #49 Most Shared PSP Game of 2007 |