Publisher:

Sega

Release Date:

Mar 20, 2007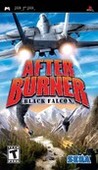 Summary:

The first arcade-style flight combat title exclusively for the PSP system, combining intensive air combat with a multitude of explosions that allow gamers to relive the experience of the classic After Burner arcade game. In addition to the in-depth customization of 19 officially licensed

The first arcade-style flight combat title exclusively for the PSP system, combining intensive air combat with a multitude of explosions that allow gamers to relive the experience of the classic After Burner arcade game. In addition to the in-depth customization of 19 officially licensed military planes, gamers can compete against friends via ad-hoc in a variety of multiplayer modes, and for the first time ever, fly solo in a story-rich single-player campaign. A terrorist cell called Black Falcon has infiltrated a top-secret CIA facility, escaping with 13 fighter jets. As a member of a highly classified military group, players must to do whatever is necessary to retrieve these fighter planes before they are sold to other terrorist cells. Utilizing an assortment of hi-tech planes such as the F-14D Tomcat, F-15E Strike Eagle, and F-22 Raptor, players engage in high-speed aerial combat as they dogfight their way through dangerous terrain to seek and destroy all terrorist targets. After Burner: Black Falcon takes flight with intense arcade-style air combat, where gamers fly at maximum speeds using high-powered weapons to destroy land and air-based enemies. With the robust customization, players can arm each military jet with an array of weapons, design customized aircrafts, and improve performance by installing a variety of engine components for faster, more maneuverable fighter planes. Players are also be able to acquire various weapons and aircraft by defeating squadrons of enemies and special bosses. [Sega]

…

Expand
Please enter your birth date to watch this video:
You are not allowed to view this material at this time.
After Burner: Black Falcon Official Trailer 1
After Burner: Black Falcon brings arcade fun into to the palm of your greedy little hands with beautiful environments, a likeable, if not eccentrtic, cast of pilots and truly exceptional rail shooter styled game-play. If you love arcade flight games, this is a must own title for the PSP.

For arcade gameplay that's barely changed at all in the 20 years since the original, After Burner: Black Falcon still feels fresh and thrilling, and the graphical facelift it's been given makes it exciting to watch too. [Issue #152, p.70]

Afterburner is addictive and fun, but best played in short bursts. Though the game is sometimes challenging, it never gets frustrating if only because it no longer requires a stream of quarters to keep the action going.

A good effort. [June 2007, p.82]

An effortlessly engaging, if rather slender, dose of wanton destruction that should satisfy the appetites of both retro fans and mainstream gamers without alienating either group.

Tidy controls and some classic retro styling, along with a great soundtrack straight from the chips of a Mega Drive assure this is everything a Sega classic should be.

After Burner may be spiritually true to Sega's seminal 1987 hit, but game design has progressed by leaps and bounds since then. Cleaving so closely to its dusty, outdated forefather hurt more than it helped, I'd say.
I breezed thru the first level but the challenge increases as you progress forward. If you are a fan of the original arcade releases or a

I breezed thru the first level but the challenge increases as you progress forward. If you are a fan of the original arcade releases or a straight forward arcade shoot'em up then this is for you!

…

Expand
| | |
| --- | --- |
| 31 | |
| 91 | #91 Most Discussed PSP Game of 2007 |
| 49 | #49 Most Shared PSP Game of 2007 |