Publisher:

Ubisoft

Release Date:

Canceled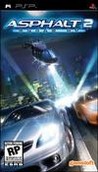 Summary:

Asphalt: Urban GT 2 shifts into gear with six game modes, numerous tuning possibilities, 30 tracks and 36 licensed cars and motorcycles – taking handheld racing simulations to a new level. To keep the action hot, Asphalt: Urban GT 2 features music from Moby and music and appearances from the

Asphalt: Urban GT 2 shifts into gear with six game modes, numerous tuning possibilities, 30 tracks and 36 licensed cars and motorcycles – taking handheld racing simulations to a new level. To keep the action hot, Asphalt: Urban GT 2 features music from Moby and music and appearances from the Pussycat Dolls. [Ubisoft]

…

Expand
Developer:

Virtuos

Genre(s):

Driving

,

Racing

,

Arcade

,

Arcade

,

Automobile

# of players:

1-4

Cheats:

On GameFAQs

Rating:

E10+
A competent racer that is more middle of the road than a fast-lane must-have. [Apr 2007, p.82]

Playstation Official Magazine UK

The good stuff is hard to find among the mediocrity. [May 2007, p.120]

Bland, unimaginative, underpowered and insipid, we've absolutely nothing positive to say about it.

This is a poorly thought out, drab racer that might have been considered passable on mobiles but on dedicated games machines we deserve better. Don't buy this. Don't let anyone else buy this. Don't let the games industry know it's okay for them to port mobile phone games to superior hardware without upgrading them in any way.