Publisher:

Ubisoft

Release Date:

Jun 6, 2006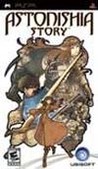 Summary:

In Astonishia Story, players embody an honorable royal knight and embark upon an epic journey to recover a stolen sacred relic that symbolizes prosperity and fortune. Players must seek the help of wizards and many other mysterious allies to succeed. [Ubisoft]
Developer:

Sonnori

Genre(s):

Role-Playing

,

Console-style RPG

,

Console-style RPG

,

Japanese-Style

# of players:

No Online Multiplayer

Cheats:

On GameFAQs

Rating:

E10+
Please enter your birth date to watch this video:
You are not allowed to view this material at this time.
Astonishia Story Gameplay Movie 2
The game's controls and user-interface are clean and intuitive: the analog stick and four face buttons are all that's needed to play, and the unobtrusive onscreen icons give you necessary information when you need it.

Lackluster story, flat characters, and a mere fifteen or so hours of gameplay really make this hard to recommend even to the most hardcore RPG players.

The graphics are poor, the game play is old fashioned, the music is just plain annoying, but it has character. This attribute alone elevates it above the rest of the samey RPGs out there, but it still manages to be just that – samey.

The English translation is awful, the skill system is poorly designed, and the load times are nearly unbearable. [Sep 2006, p.87]

I wouldn't pawn off this boring dreck to even the most annoying neighbor kid. [Aug 2006, p.90]

Astonishia Story offers no compelling gameplay, nothing like a gripping narrative, nothing much to listen to (the MIDI-riffic music hasn't aged well over 12 years), and a great deal of waiting.

If this were 1995, we might find more to like. But it's 2006, and we don't pay $40 for SNES remakes anymore, especially unimaginative ones that aren't programmed well or translated properly like Astonishia Story.
Well,For the game of "Astonishia Story" for the Playstaion Portable,It truly proves that with hard work,graphic don't matter.As long as the

Well,For the game of "Astonishia Story" for the Playstaion Portable,It truly proves that with hard work,graphic don't matter.As long as the storyline is good.

…

Expand

This game is seriously underrated and people need to stop giving it crap. The combat system adds a layer of depth to the turn based combat

This game is seriously underrated and people need to stop giving it crap. The combat system adds a layer of depth to the turn based combat system by adding area and locomotion control which affects everything from the skills you cast to how you attack. The characters are solid with each having their distinctive traits and personality. Story encompasses a lot of elements of drama, romance action and a hint comedy. themes such as war, revenge , adversity and manipulation play a heavy role in the story. The lore is enthralling and amazing. And the visuals, while are dated give a sense of charm and pay homage to what gaming was before.

…

Expand

I wish i could go in to the negative on this one. Horrible game. No quest book. Character not at all customizable. Most of the time you look

I wish i could go in to the negative on this one. Horrible game. No quest book. Character not at all customizable. Most of the time you look like a chicken with your head cut off because you have no idea what you are supposed to be doing. I would pay them to take this game back.

…

Expand

I am deeply troubled by the fact that I paid 40 bucks for this game. The only thing good I can say about it is that purchasing Astonishia,

I am deeply troubled by the fact that I paid 40 bucks for this game. The only thing good I can say about it is that purchasing Astonishia, and being completely disgusted with its quality, has caused me to research my future PSP game purchases a bit more.

…

Expand
| | |
| --- | --- |
| 66 | #66 Most Discussed PSP Game of 2006 |
| 39 | #39 Most Shared PSP Game of 2006 |