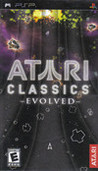 Summary:

No need to dust off your Atari 2600. These classic games are now available for you to take everywhere you go on the PSP system. Whether you're looking for that classic, retro experience, or you're looking for new-age graphics, each game will be playable in both classic and evolved forms to

No need to dust off your Atari 2600. These classic games are now available for you to take everywhere you go on the PSP system. Whether you're looking for that classic, retro experience, or you're looking for new-age graphics, each game will be playable in both classic and evolved forms to satisfy your itch. As an added bonus, you'll be able to unlock over 50 Atari 2600 titles giving you non-stop gaming action. [Atari]

…

Expand
Developer:

Stainless Games

Genre(s):

Miscellaneous

,

Compilation

,

Compilation

# of players:

2 Online

Cheats:

On GameFAQs

Rating:

E
Having reviewed multiple compilations, I find that Atari Classics Evolved definitely stands out as one of the best in quite some time. The care taken in presentation and adaptation to a portable format is impressive, with only minor flaws to hold it back.

If you're up for the challenge, and you want to trace the lineage of some of your favorite games of all times by exploring their heritage, you simply can't afford to pass up Atari Classics Evolved.

Overall, this game's got more than you might expect for the price, but it's still missing things that serious retro gamers on the go are looking for.

Though some games are more fun than others, they're all classics, and always worth revisiting.

A pretty standard classics collection. On its own it's exceedingly average, but if you've got a soft spot for one or more of these games, the awards might make it worth your time.

The "evolved" angle isn't worth much, unless you really want the ultimate Warlords experience (which is admittedly awesome).

On the one hand, there are more than sixty games available in portable form. Some of them have even been genuinely enhanced, if you're interested. Unfortunately, many players probably won't have the patience to unlock the full library of classics and will be stuck with the eleven that are available from the start.
It is what it's advertised as, all the old arcade classics in original form as well as updated to 2007 standards all in the palms of your

It is what it's advertised as, all the old arcade classics in original form as well as updated to 2007 standards all in the palms of your hands. A must! Still nothing so compelling that gets you addicted or you don't move on from after a short stint of nostalgia.

…

Expand

As an old school gamer, who spent many-a-quarter in arcades on all of these games, I am happy with this collection. I'm happy with the

As an old school gamer, who spent many-a-quarter in arcades on all of these games, I am happy with this collection. I'm happy with the game=play, I'm happy with the choice of games, I'm even happy with the updates and changes made. I like these updates better than the updates on the PS One collection. The reason I don't give the game a better score is because the unlock to get to those juicy original 2600 games, That I bought the bloody disk for is.....

I can't think of a term that isn't vulgar.

Imagine being a given a game system, and every game that was made for it, the only trick is you have to parkour (yes that is spelled correctly no matter what the idiotic spell checker says, what does it use an Alabama dictionary?) Anyway, you have to parkour naked through the entire city of San-Francisco and you have exactly 4 minutes to accomplish it.

I don't want to have to be a bloody master of Warlords to be able to play the 2600 version of Warlords! I'm old now! These games are for us old farts who are wasting time looking back at all the time we wasted! Who ever came up with the idea that you had to get every achievement in the game to unlock the games that are, by proxy of age the crappiest games on the disk, needs to be made to graduate from the Marine Corps Boot Camp, and given a blanket party on a nightly basis!

If you love Arcade Classics and have a PSP, then you owe it to yourself to get this version. Just don't expect to see the Atari 2600 games unless your some sort of hardcore-retro-masochist that doesn't want to make time for modern game that are hundreds of times better looking, and just as fun to boot.

…

Expand

"Atari: Classics Evolved" was one of a dozen classic and evolved video games that I did not like but that leave me entertained
| | |
| --- | --- |
| 58 | |
| 57 | #57 Most Discussed PSP Game of 2007 |
| 40 | #40 Most Shared PSP Game of 2007 |