Publisher:

SCEA

Release Date:

Oct 26, 2006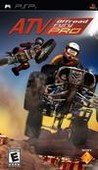 Summary:

Supporting up to four players via wireless multiplayer connectivity, players will speed through more than 30 visually stunning environments with six distinct terrain types including snow, dirt, mud, ice, water, and grass. Featuring five new events, new vehicles and mini-games, and cross

Supporting up to four players via wireless multiplayer connectivity, players will speed through more than 30 visually stunning environments with six distinct terrain types including snow, dirt, mud, ice, water, and grass. Featuring five new events, new vehicles and mini-games, and cross compatibility with ATV Offroad Fury 4 for the PlayStation2, ATV Offroad Fury Pro will provide players the opportunity to tackle the trickiest off-road courses anytime, anywhere. [SCEA]

…

Expand
Developer:

Climax Group, Climax Studios

Genre(s):

Driving

,

Racing

,

Simulation

,

Rally / Offroad

,

Rally / Offroad

,

Automobile

# of players:

4 Online

Cheats:

On GameFAQs

Rating:

E
Not only the best ATV game available for the PSP, but it's also one of the best ATV racing games for any system.

Players will be able to tell that this game was made from the ground up with the PlayStation Portable controls in mind, because this game handles really well. Handling the various vehicles all felt natural and fun as you are doing various tricks in the air.

ATV Offroad Fury Pro won't win any awards for graphics or game play, but it does feature an insane amount of levels, modes, mini-games and multiplayer fun.

With so many options and the incredible multiplayer, this easily ranks as a must-play for fans of racing and its console counterpart.

The environments are sweet, but it's the new vehicles, the 60 something odd tracks, and killer four-player online play that have us most excited. [Jan. 2007, p.85]

Efficiently recreates the spirit of the sport, but it's far too samey. [Aug 2008, p.81]

A pretty decent but ultimately average racer.