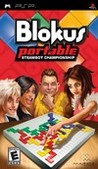 Summary:

The rules of Blokus are simple: Each player places his/her pieces on the board in turn, ensuring that pieces of the same color touch at one or more corners, but never along the sides. The objective is to strategize and place as many pieces as you can before your opponent/s beats you to it.

The rules of Blokus are simple: Each player places his/her pieces on the board in turn, ensuring that pieces of the same color touch at one or more corners, but never along the sides. The objective is to strategize and place as many pieces as you can before your opponent/s beats you to it. Based on the same basic rules and intuitive gameplay that made the board game a success, Blokus Portable allows up to 16 people to play in ad hoc wireless mode, or up to three friends to play simultaneously using one UMD in the ad hoc game sharing mode. Blokus Portable combines the original 4-player Blokus plus the 2-player Blokus Travel/Duo, while letting players customize their own character and unlock 18 additional characters from the Steambot Chronicles series. [Majesco]

…

Expand
Developer:

Irem

Genre(s):

Miscellaneous

,

Board Games

,

Board Games

,

Board / Card Game

# of players:

16 Online

Cheats:

On GameFAQs

Rating:

E
This is by far one of the neatest titles that has ever graced the PSP.

Check out Blokus for the strategic gameplay not the Steambot style.

There's not a lot of depth or substance to Blokus Portable; the Steambot characters don't really have an impact or purpose to the title, the unlockables are shallow, and the gameplay doesn't really vary at all.

A game you'll mostly just play online (if you can find anyone) or with up to four players locally (since only one copy of the UMD is required). That's nice, but if everyone's in the same room already, why wouldn't you play the board game instead?

Do not misunderstand me when I say that the board game, Blokus, is a fantastic way to spend some time with a handful of friends. But Steambot Championship does a tremendous disservice to its originator by cluttering it up with so much garbage that it's a true struggle to get any enjoyment out of the purchase.