Publisher:

EA Games

Release Date:

Sep 13, 2005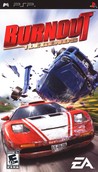 Summary:

Burnout Legends sets the bar for on-the-go automotive anarchy, combining the series' trademark speed, destruction and depth with new PSP-only features, gameplay refinements and connectivity. Gamers can look forward to eight gameplay modes, including crash, road rage and pursuit, with

Burnout Legends sets the bar for on-the-go automotive anarchy, combining the series' trademark speed, destruction and depth with new PSP-only features, gameplay refinements and connectivity. Gamers can look forward to eight gameplay modes, including crash, road rage and pursuit, with white-knuckle multiplayer via WiFi, and a GameShare option allowing players to wirelessly share a demo level of the game with friends. [Electronic Arts]

…

Expand
Developer:

Criterion Games

Genre(s):

Driving

,

Racing

,

Arcade

,

Arcade

,

Automobile

# of players:

No Online Multiplayer

Cheats:

On GameFAQs

Rating:

E10+
Please enter your birth date to watch this video:
You are not allowed to view this material at this time.
Burnout Legends Official Trailer 2
Great for a quick game on the bus, perfect for those extended sessions on the train, Burnout Legends is right up there with Lumines and Virtua Tennis on our PSP must-have list. Truly brilliant.

It's not often I can wholeheartedly recommend a game for mandatory purchase, especially at full price, but Burnout Legends is one of those games that is just so much fun that you won't be able to resist.

The speed at which everything shifts and the level of detail is absolutely stunning. It could easily stand alongside its PS2 and Xbox counterparts without looking like the cut-down 'diet' version you might expect for a handheld and full credit to Criterion for pulling it off without making sacrifices in gameplay or longevity.

What's amazing is that Criterion was able to create such a tight control scheme, when other PSP racing games have felt floaty and flaky. By any standard, Burnout's control is rock solid. It's possible to dodge right though the same small spaces that entice players on the console game.

The lack of Infrastructure mode was a bummer, but the great single-player mode more than made up for the lackings.

An 'original' title based on previous games. Think of it as "Burnout 3+."

It's already been established that Legends is a 'Best of' rather than a fully-fledged sequel. Therein lies its greatest failing – in fundamental terms it offers nothing more than 'Burnout on the go'.
Magically tranformes Burnout 3 into a handheld game. Certainly the best racing game on the PSP, some might say Legends is the best Burnout

Magically tranformes Burnout 3 into a handheld game. Certainly the best racing game on the PSP, some might say Legends is the best Burnout ever - its essentially an updated and fleshed out version of Burnout 3 with extra courses, modes and cars. Perfection.

…

Expand

I think Burnout Legends is the best game for PSP. What kind of person would disagree. It has everything that a racing game should have.

I think Burnout Legends is the best game for PSP. What kind of person would disagree. It has everything that a racing game should have. It's got the music, insane crashes, fast speeds, and really nice graphics for the PSP. I really have fun playing it and I also look foword to geting GTA Liberty City Stories.

…

Expand

Beautiful graphics, heartaching speeds and a robust physics engine, yes, all of the good of Burn Out finally packed in one on-the-go game.

Beautiful graphics, heartaching speeds and a robust physics engine, yes, all of the good of Burn Out finally packed in one on-the-go game. Combined with the replayability and excellent playtime (over 15 hours if you want to finish everything) this game is for keeps!

…

Expand

I cannot believe it took me this long to find this game. Wow! What fun. The graphics are great, the racing is fun, and its just fantastic.

Burnout Legends and Paradise are the best games on Burnout Series . In Burnout Legends not really good physics , but better than in Burnout

Burnout Legends and Paradise are the best games on Burnout Series . In Burnout Legends not really good physics , but better than in Burnout Dominator and in Burnout Legends rate higher than in other Burnout Games and this game is funniest Burnout in series , but Burnout Paradise does not matter better than Burnout Legends and in Burnout Legends graphics as in Burnout Dominator , but Burnout Dominator implemented in 2007 and Burnout Legends in 2005 . Burnout Legends is very good racing game . 8/10 .

…

Expand

I'm a huge Burnout fan, but this game just plain blows. The loading times are bad, there are numerous bugs, there's slowdown...and

I'm a huge Burnout fan, but this game just plain blows. The loading times are bad, there are numerous bugs, there's slowdown...and the game isn't as fun on a little screen as it is on my big TV.

…

Expand
| | |
| --- | --- |
| 5 | |
| 3 | #3 Most Discussed PSP Game of 2005 |
| 2 | #2 Most Shared PSP Game of 2005 |