Publisher:

SCEA

Release Date:

Sep 23, 2008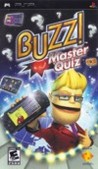 Summary:

Packing over 3000 questions on topics including music, celebrities, TV, sport, science, nature, movies and more, BUZZ! Master Quiz puts gamer's knowledge to the test at home or on the move. With six new round types specifically designed for PSP including the speed-is-of-the-essence

Packing over 3000 questions on topics including music, celebrities, TV, sport, science, nature, movies and more, BUZZ! Master Quiz puts gamer's knowledge to the test at home or on the move. With six new round types specifically designed for PSP including the speed-is-of-the-essence "Quickfire Challenge", the picture-puzzler "Picture This" and the mind-boggling "Virus Challenge", each round also comes complete with pictures and videos. [Sony]

…

Expand
Developer:

Relentless Software

Genre(s):

Miscellaneous

,

Trivia / Game Show

,

Trivia / Game Show

# of players:

4 Online

Cheats:

On GameFAQs

Rating:

E10+
It's fun to pick up and play whenever you have a moment, but with the lowered production values you might have just as much fun with a mobile trivia game.

While far from the best entry in the Buzz series, Master Quiz is an easy game to recommend. It's fast, fun, full of excellent questions (and lots of 'em) and has a great all around feel. Lots of game modes keep the basic "answer a question for points" formula fresh throughout, and with medals, trophies and actual progression it actually feels like more than a shallow game show.

If you are a big trivial game guru then Buzz! Master Quiz is a must have for you to play anytime or anywhere. Just don't expect an abundance of online competition.

The trivia well could have run deeper but you won't find another portable party quite like Master Quiz.

As far as quiz games on the go are concerned, Buzz! Master Quiz is a solid effort for the PSP.

Limited multiplayer options and a decidedly shallow single-player side weigh down trivia king Buzz's portable debut.

That said, a slicker presentation, better multiplayer, more question variety and the ability to download question packs for a small fee could've made this the next great game show.
It is fun to play in the beginning but after a while you get tired of it. Though it kept me a few good hours hooked.

Master Quiz is a solid and enjoyable Buzz entry but there is a sufficient lack of game types and the presentational aspects are lacking like

Master Quiz is a solid and enjoyable Buzz entry but there is a sufficient lack of game types and the presentational aspects are lacking like the bland sense of atmosphere of being a quiz show

…

Expand

It is a solid trivia game. The trivia questions are pretty good. But the overall environment of the game is a little bit boring. Because of

It is a solid trivia game. The trivia questions are pretty good. But the overall environment of the game is a little bit boring. Because of that, sometimes I'm getting tired of playing this game. It's a good game but "Buzz! Quiz World" is better than this one.

…

Expand
| | |
| --- | --- |
| 30 | |
| 23 | #23 Most Discussed PSP Game of 2008 |
| 31 | #31 Most Shared PSP Game of 2008 |