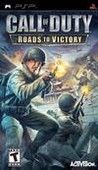 Summary:

In Call of Duty: Roads to Victory, get closer than ever to the fury of combat as an Allied soldier in World War IIs most harrowing military operation, the Normandy Breakout Campaign. Melee combat and destructible cover bring you face-to-face with German forces. Multiple attack routes mean

In Call of Duty: Roads to Victory, get closer than ever to the fury of combat as an Allied soldier in World War IIs most harrowing military operation, the Normandy Breakout Campaign. Melee combat and destructible cover bring you face-to-face with German forces. Multiple attack routes mean you decide whether to flank your enemy or hit him head on. [Activision]

…

Expand
Developer:

Amaze Entertainment

Genre(s):

Action

,

Shooter

,

Shooter

,

First-Person

,

Historic

,

Historic

,

Arcade

# of players:

Up to 6

Cheats:

On GameFAQs

Rating:

T
Please enter your birth date to watch this video:
You are not allowed to view this material at this time.
Call of Duty 3 Official Movie 3
The gameplay has been made more accessible but nonetheless engaging for the handheld, and the presentation, particularly the sound, is great. The PSP is not perfectly suited for first person shooters, but this is about as good as it can get.

While it doesn't reinvent the wheel, it's still an exciting and enjoyable triumph of visuals and sound on the PSP.

CoD: RtV is exactly what you would expect from a pint-sized version of its console brother. While the auto-aim and brain-dead AI make the game a cake walk, it still satisfies in small doses which is the definition of portable gaming.

The control is flawed and attempts to handle the system's limitations in an imaginative, yet dysfunctional manner. There are many problems here from the button configuration and poor AI to auto-targeting.

The game is still playable, although not without its frustrations. And seriously, why bother giving us an accuracy percentage when aiming is nearly impossible. That's like yelling at an arthritic waiter for spilling your soup. But the wonderful presentation COD fans have come to expect is intact, and the game visually translates unimpeded.

A valiant effort for what it is, but still falls short in terms of control and level design. But if you absolutely must have your World War II fix on the go, you could do worse.

Doesn't feel like a true Call of Duty game. Gamers can blame Amaze if they like or the difficulty of developing a shooter on the PSP format, but either way Call of Duty Roads to Victory falls short of expectations.
This was a great game and a must-buy for any PSP owner!

Exciting game. Shootout is intense. But the movement is pretty hard. However, a new experience you should try on a portable console.

This is good shooter . Amazing storyline and awesome graphics , good gameplay and many different good weapons . Call of Duty is good game . Of

This is good shooter . Amazing storyline and awesome graphics , good gameplay and many different good weapons . Call of Duty is good game . Of Course MGS Peace Walker and Syphon Filter Logans Shadow and Dark Mirror better than Call of Duty RTV , but COD RTV better than MGS Portable Ops . PSP has got COD game , but hasnt got BF game . Call Of Duty Roads To Victory is good game . Strong 7/10 .

…

Expand

Paul C. better adjust his score because there are 4 control schemes, and one of them uses the face buttons to aim (like MOH: Heroes). So if

Paul C. better adjust his score because there are 4 control schemes, and one of them uses the face buttons to aim (like MOH: Heroes). So if you are comfortable with the controls from MOH, then you'll be right at home here. In fact, there is an auto-aim, which locks onto targets when your cursor is close enough, so it can be pretty forgiving. In comparison to MOH, this game is much longer, more difficult, and more intense. I don't think either game deserves better than a 7, but we can blame the lack of a second analog for that.

…

Expand

Completely **** Bad graphics, bad map design , stupid plot, terrible gun play
| | |
| --- | --- |
| 61 | |
| 6 | #6 Most Discussed PSP Game of 2007 |
| 21 | #21 Most Shared PSP Game of 2007 |