Publisher:

Konami

Release Date:

Jul 6, 2005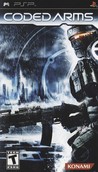 Summary:
Konami's first entry into the FPS genre, Coded Arms takes place in an abandoned virtual reality system and its portal site inside a giant computer network. The VR system was originally created as a combat training simulator in the event of an alien invasion. However, during the development of the simulation program, a major flaw was discovered and development was cancelled and left abandoned. During this time when the program was not monitored, it kept evolving within the computer network and eventually turned into a vast and brutal VR world populated with virtual alien invaders, dangerous computer bugs and the VR system's own security bots. Players assume the role of a computer hacker who infiltrates the abandoned virtual reality system. Gamers use up to 30 weapons and power-ups that they discover while exploring the expansive single player mode. Coded Arms utilizes the PSP handheld system's wireless capabilities for multiplayer action for up to four people. [Konami]
| | |
| --- | --- |
| Rating: | T |
| Developer: | Konami |
| Genre(s): | Action, Adventure, Shooter, 3D, First-Person, Sci-Fi, Sci-Fi, Arcade |
| Number of Players: | 1-4 Players |
| ESRB Descriptors: | Blood Violence |
| Offline Modes: | Competitive |
| Connectivity: | Wi-Fi |
Designer/Producer/Programmer credits provided by
GameFAQs
.
If you contributed to this game and feel you should be credited, please read our
FAQ
.
| | |
| --- | --- |
| 64 | |
| 9 | #9 Most Discussed PSP Game of 2005 |
| 50 | #50 Most Shared PSP Game of 2005 |