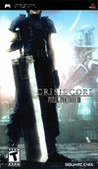 Summary:

Square Enix is brings this role-playing game to the PSP the fourth installment in their Compilation of Final Fantasy VII series which includes the movie "Final Fantasy VII: Advent Children," the game "Dirge of Cerberus: Final Fantasy VII" for PS2, and "Before Crisis: Final Fantasy VII" for

Square Enix is brings this role-playing game to the PSP the fourth installment in their Compilation of Final Fantasy VII series which includes the movie "Final Fantasy VII: Advent Children," the game "Dirge of Cerberus: Final Fantasy VII" for PS2, and "Before Crisis: Final Fantasy VII" for mobile devices.

…

Expand
Developer:

Square Enix

Genre(s):

Role-Playing

,

Action RPG

,

Action RPG

# of players:

No Online Multiplayer

Cheats:

On GameFAQs

Rating:

T
Please enter your birth date to watch this video:
You are not allowed to view this material at this time.
CRISIS CORE –FINAL FANTASY VII– REUNION Announcement Trailer
It plays like a dream, blurring the lines between both genres that it covers much more than any other game. And it looks the part too, as it is easily the best looking handheld game you'll see to date, along with God of War.

PSP fans, rejoice. This is the killer-app that you have been waiting for; the game which will send PSP units worldwide flying off the shelves - just like what Final Fantasy VII did for the original PlayStation.

The familiar soundtrack, environments and fleshing out of back story will delight the game's fanatical army of followers. More importantly, however, is that Crisis Core's overall quality makes it a must buy for all PSP owners, whether you're into your materia or not.

If your PSP has been gathering dust in the corner for some time, it's time to dust it off, grab a copy of Crisis Core and experience one of the truly great titles to ever grace the PSP.

Were it not for the plot and the special significance of Final Fantasy VII this game would invariably fail to stand out in a crowded genre, brimming with innovation and quality. Still, this is Final Fantasy, and that still counts for something.

The FFVII diehard should snag this post-haste (this really does make up for Dirge's mediocrity, honest), and even if you don't recognize the significance of playing Zack as opposed to Cloud, this is a worthy Japanese action-RPG.

If the words "the death of Aeris" don't bring a tear to your eye, then dropping $40 on Crisis Core certainly will.
This is the most awesome handheld game i have ever played ever, probs even with Patapon. This game is incredibly addictive and everything

This is the most awesome handheld game i have ever played ever, probs even with Patapon. This game is incredibly addictive and everything about it is awesome. can't see what people don't like about the story. the battle system is great and the end emotional. Amazing, beats Gods of War easily in my opinion, no conest.

…

Expand

This, along with the original FFVII, are absolutely, unquestionably the two best games ever made, and the two best games that could ever be

This, along with the original FFVII, are absolutely, unquestionably the two best games ever made, and the two best games that could ever be made. The graphics of Crisis Core exceed any other game I have seen on PSP, and the story line (which falls perfectly into place with the original story of FFVII) will immediately make you fall in love with the characters. No other games on the PSP market compare to Crisis Core, and Crisis Core, along with the original FFVII, are two of the best games ever made.

…

Expand

A Masterpiece, loved everything about this game, it is definitely a must play!

The DMW I hate that thing. FF7: CC is in all fairness a prequel to FF7, if you did not like FF7 then chances are you will be biased and not

The DMW I hate that thing. FF7: CC is in all fairness a prequel to FF7, if you did not like FF7 then chances are you will be biased and not like this game. Crisis Core was made for fans of FF7 to deepen the relationship with the characters and forge a better understanding of the story. I myself enjoyed the game for the nostalgic memories it brought to me and the plot, which at times was confusing but is expected when translating from one language to another. The battle system is not my favorite I prefer turn based system much like FF7 although I think a FFX system would have worked better here. The story is immersing and the characters are likable. all together It is not the shining pearl of the Final Fantasy universe but it is a good game and I think deserves a deal of respect. 9 out of 10.

…

Expand

This game is a great addition to add insight to the FF7 story. FF7CC has a back story the adds more enjoyment to the FF7 story. Great graphics

This game is a great addition to add insight to the FF7 story. FF7CC has a back story the adds more enjoyment to the FF7 story. Great graphics and one of the best games on the PSP. I played FF7 first and hence I enjoyed FF7CC, I'm not sure how people would see this game without FF7 insight. FF always gives new battle systems some work others don't after the initial awkwardness I got use to the battle system in this game and enjoyed it.

…

Expand

DMW ruins this game. I wanted to enjoy it or at least tolerate it, but cannot get past it, the frustration at the luck-centred nature of it is

DMW ruins this game. I wanted to enjoy it or at least tolerate it, but cannot get past it, the frustration at the luck-centred nature of it is too much and gets enraging pretty quickly. As a result I can only experience this story through cutscenes and wikis. This is literally a complete deal breaker for me. I played about 1 hour and I want to destroy the universe. And I love FF7 so much that I hate DMW even more for getting in the way of one of my favourite fictional worlds.

…

Expand
| | |
| --- | --- |
| 5 | |
| 1 | #1 Most Discussed PSP Game of 2008 |
| 2 | #2 Most Shared PSP Game of 2008 |