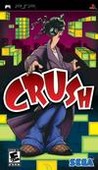 Summary:

Unique to its genre, Crush introduces a valuable new puzzle gaming experience that is wholly suited to the PSP system. Set within a complex, hypnotic 3D world, players use the game's unique crush mechanic to "crush" the environment and transform it into a more simplified 2D platformer. Once

Unique to its genre, Crush introduces a valuable new puzzle gaming experience that is wholly suited to the PSP system. Set within a complex, hypnotic 3D world, players use the game's unique crush mechanic to "crush" the environment and transform it into a more simplified 2D platformer. Once flattened, players utilize the 2D space to move to new areas to solve otherwise impossible challenges, and unlock secret items that were previously unobtainable in the 3D environment. Players then "uncrush" the 2D environment and return to the 3D world. Designed for a wide and varied audience, Crush tells the story of Dan, a man with a lifetime of unresolved issues and bottled up emotions that has turned him into a nervous insomniac who is too tired to turn his life around. Desperate for a cure, he turns to hypnosis. It is during this state that he is given one last chance to sort through the wreckage of his past, before he loses the last thing he has – his sanity. [Sega]

…

Expand
Developer:

Zoe Mode

Genre(s):

Action

,

Platformer

,

Platformer

,

3D

,

3D

# of players:

1 Player

Cheats:

On GameFAQs

Rating:

E10+
Please enter your birth date to watch this video:
You are not allowed to view this material at this time.
Certainly a real gem for puzzle fanatics, and anyone looking for something really new and really unique for their PSP has gotten themselves a real head turner.

Easily one of the best puzzle games ever made. Yes, it's really that good. If you own a PSP, you need this game.

The best compl[i]ment possible to give a puzzle game is that the real reward is the playing itself. You don't need fancy stories, or whiz-bang effects when you've got solid, addictive gameplay. And CRUSH has this in spades--not to mention the presentation is quite nice as well.

My PSP has never looked (or felt) this good. Do yourself a favor and play this.

A puzzle game that we actually like, and that's rare. [Issue#154, p.86]

Official Playstation 2 Magazine UK

Don't let the presentation scare you. If ever there was a classic game that screams cult classic puzzler, it's this one. [June 2007, p.94]

There's replayability in Crush in the way of time trials and perfecting scores, but it relies on you wanting to play it in the first place.
This game is genious.
The level design is well done, and it has several collectables in each level.
This is a plataformer puzzle game, howThis game is genious.
The level design is well done, and it has several collectables in each level.
This is a plataformer puzzle game, how to go to the next area is a puzzle in itself.
The history is solid but not overwelming, even though it does has some very charismatic characters.
This is a very thoughtful game, it basically has no flaws.
This game is for the psp and ps vita for 7 dollars. I recommend it to anyone that would like to try a puzzle game. It could remmember you the game Catherine in a good way.

…

Expand

Inventive, mind-bending topography make you wonder how the designers worked out the level design! Really nicely put together - just difficult

Inventive, mind-bending topography make you wonder how the designers worked out the level design! Really nicely put together - just difficult enough to make the moment when you solve a puzzle give you a warm, fuzzy feeling.

…

Expand

Best puzzle game ever played! And god knows i have played ALOT of game in my life but this one is just fantastic! Enough said!

Easily the best PSP game I've played in a long time. Very challenging, and most importantly, fun. Aimed precisely at the handheld crowd

Easily the best PSP game I've played in a long time. Very challenging, and most importantly, fun. Aimed precisely at the handheld crowd (not a dumbed down port), with levels that are (amazingly) exactly as long as your interest in finishing them. Well done, must buy.

…

Expand

A genuinely fantastic game, and worth going back to in current day. The aesthetic is great, the concept is awesome, and the gameplay is

A genuinely fantastic game, and worth going back to in current day. The aesthetic is great, the concept is awesome, and the gameplay is thought-provoking, fun, and utterly unique.

…

Expand

It's a good game, I'm not arguing against that. Though, the pros and cons of the game makes it a mixed bag. I enjoyed the unique

It's a good game, I'm not arguing against that. Though, the pros and cons of the game makes it a mixed bag. I enjoyed the unique genius puzzle gameplay engine, but I didn't find that too rewarding. The only reward for your hard work is an art gallery. Though, it's fairly lengthly, the only replay value it has is repeating missions.

…

Expand
| | |
| --- | --- |
| 7 | |
| 48 | #48 Most Discussed PSP Game of 2007 |
| 48 | #48 Most Shared PSP Game of 2007 |