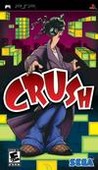 Summary:
Unique to its genre, Crush introduces a valuable new puzzle gaming experience that is wholly suited to the PSP system. Set within a complex, hypnotic 3D world, players use the game's unique crush mechanic to "crush" the environment and transform it into a more simplified 2D platformer. Once flattened, players utilize the 2D space to move to new areas to solve otherwise impossible challenges, and unlock secret items that were previously unobtainable in the 3D environment. Players then "uncrush" the 2D environment and return to the 3D world. Designed for a wide and varied audience, Crush tells the story of Dan, a man with a lifetime of unresolved issues and bottled up emotions that has turned him into a nervous insomniac who is too tired to turn his life around. Desperate for a cure, he turns to hypnosis. It is during this state that he is given one last chance to sort through the wreckage of his past, before he loses the last thing he has – his sanity. [Sega]
Designer/Producer/Programmer credits provided by
GameFAQs
.
If you contributed to this game and feel you should be credited, please read our
FAQ
.
| | |
| --- | --- |
| 7 | |
| 43 | #43 Most Discussed PSP Game of 2007 |
| 48 | #48 Most Shared PSP Game of 2007 |