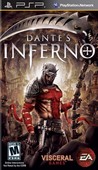 Summary:

Dante's Inferno tells an adapted story that focuses on delivering a blockbuster 3rd person action game experience while bringing Alighieri's depiction of Hell to the medium. Players assume the role of Dante, who descends into Hell after returning home to find his beloved Beatrice murdered,

Dante's Inferno tells an adapted story that focuses on delivering a blockbuster 3rd person action game experience while bringing Alighieri's depiction of Hell to the medium. Players assume the role of Dante, who descends into Hell after returning home to find his beloved Beatrice murdered, with Lucifer seducing her soul into the underworld. Dante sets out on a rescue mission to save Beatrice, but he soon realizes he is also in Hell to face his own demons and ultimately to redeem himself. Players take Dante through nine unique circles of Hell as mapped out and described by Alighieri: limbo, lust, gluttony, greed, anger, heresy, violence, fraud and treachery. Each circle showcases its own distinct look, with demons, monsters, damned and geography that are crafted straight from the poem's vivid descriptions. To take down the demons of Hell, Dante is outfitted with two primary weapons: the Scythe he takes from Death and the Holy Cross given to him by Beatrice, which has spiritual powers that will help Dante collect souls and spells from the creatures he defeats on his journey. The game also features a deep upgrade system so gamers can customize their abilities to their specific gameplay style, something they'll need as Dante comes face to face with Hell's fiercest beasts and bosses. If successful, Dante will be able to tame certain beasts, exacting their will and turning Hell's punishments back on itself. [Electronic Arts]

…

Expand
Developer:

Artificial Mind and Movement, EA Redwood Shores

Genre(s):

Action

,

Beat-'Em-Up

,

Beat-'Em-Up

,

2D

,

3D

# of players:

No Online Multiplayer

Cheats:

On GameFAQs

Rating:

M
Hacking your way through hell is quite enjoyable, and fortunately, making your way through all nine circles of it provides the game with a decent length.

Both as a game and as an adaptation, Dante's Inferno is a noteworthy game, in a genre which is not so crowded and well-attended in the PSP. It does well what it tries to do, without taking too much risk.

In terms of technical presentation, Dante's Inferno is a shining example of how an action game should be done on the PSP.

The action-adventure with the slaughtering Italian renaissance artist Dante also works on PlayStation Portable. It features a lot of action and violence and is certainly one of the better God of War-clones.

A nice porting that delivers the same entertaining formula of the bigger version. Thus, the evocative power of the settings gets lost in the reduction.

Dante's Inferno on PSP is the same game than on 360 and PS3. It lacks the visuals, but it mimics the controls, the gameplay, and offers the same storyline. Gritty and really fun, Dante's adventure is good on PSP, but it has the same flaws as the HD versions.

For whatever reason, it feels like A2M shoved Dante's Inferno as hard as it could into the game development version of Google Translate and have wound up with something that lost most of its meaning and intention in the process.
After playing this Game, I now want to Slash the A$ses of all the Lame Critics who said that this is a God of War Clone, Apart from the Genre,

After playing this Game, I now want to Slash the A$ses of all the Lame Critics who said that this is a God of War Clone, Apart from the Genre, the Fighting Styles a handful Similarities, Dante's Inferno is a Totally different Game. The Cut-Scenes are Marvellous with loads of Nudity, Violence. The Gameplay is pure Genious. The Enemies are totally out of the Box, most of which are Nude with their Boobs/Penis in full View..The Concept Art of this Game will Shock you. There will be Stages where you will be walking across Tongues, Intestines, Penis etc etc. The only disappointment was the Final boss Battle as it was too Easy, considering the Hell one has to from in the second last stage named Fraud. Personally I Liked this Game more than God Of War. Feel bad that it is so Under-rated.

…

Expand

This game has to be compared to 2 things: 1. God Of War, Chains of Olympus 2. Dante's Inferno on PS3 And the comparison is very good.

This game has to be compared to 2 things: 1. God Of War, Chains of Olympus 2. Dante's Inferno on PS3 And the comparison is very good. The game is obviously based on GOW, the same combat style, power ups etc. However, it also builds on it by the use of the Holy Cross - which I love. The graphics are excellent, and hold up well against the PS3 version. I would definately recommend this to anyone looking for an adventurous game to play on the PSP system. In addition, the people at Visceral know how to do atmospheric (Dead Space), and it shows here too.

…

Expand

Seriously, a reason to keep your PSP! Entertaining story, impressive details, a reasonable challenge. If you like God of War and want more

Seriously, a reason to keep your PSP! Entertaining story, impressive details, a reasonable challenge. If you like God of War and want more levels and are happy with a story change and even inadvertantly learning a little than there's no flaw to be concerned with. Not For Kids!

…

Expand

Dante's inferno is a good effort at making a GOW type game with a twist. You can absolve or punish your foes and upgrading you holy or

Dante's inferno is a good effort at making a GOW type game with a twist. You can absolve or punish your foes and upgrading you holy or unholy powers is a nice touch. The graphics are good without being spectacular and the gameplay is fun! The only slight negative for me are the controls are a little bit loose which prevents me from giving a higher rating. Overall good game for the PSP and I would recommend anyone who enjoys hack and slash with some substance to give it a go!

…

Expand

This review contains spoilers

, click expand to view

.

I do not have to say anything more. But i need to write one hundred and fifty characters. i think my score can describe it............................

…

Expand

Average slasher game for PSP which is easily beaten by God of War. So much untapped potential. The graphics are quite good but the story is

Average slasher game for PSP which is easily beaten by God of War. So much untapped potential. The graphics are quite good but the story is very predictable and could be done much better.

…

Expand
| | |
| --- | --- |
| 33 | |
| 17 | #17 Most Discussed PSP Game of 2010 |
| 12 | #12 Most Shared PSP Game of 2010 |