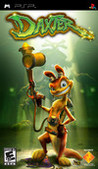 Summary:

Daxter is centered around the world of the lovable orange ottsel made popular in the Jak and Daxter franchise. The story unfolds as Daxter searches for Jak, who was imprisoned during the events that led to the start of "Jak II." Daxter, now on his own in an unfamiliar place, quickly realizes

Daxter is centered around the world of the lovable orange ottsel made popular in the Jak and Daxter franchise. The story unfolds as Daxter searches for Jak, who was imprisoned during the events that led to the start of "Jak II." Daxter, now on his own in an unfamiliar place, quickly realizes that being small and furry won't help his chances of survival. To help stamp out a mysterious metalbug infestation, Daxter takes on a job as a pest exterminator, enabling him to explore parts of Haven City in an effort to collect the clues that will lead him to Jak. Daxter allows gamers to play from his perspective offering a distinctive set of moves with agile abilities that allows players to climb walls, creep up on enemies, fit in small places and maneuver vehicles. Taking a job as a pest exterminator, to fight an ongoing invasion of metal-bugs, Daxter comes equip with gadgets to rid the city of these metal nuisances. Get close up and personal by using your flimsy bug swatter to squash an army of attacking insects or your spray gun to hover around a variety of environments while picking up various upgrades. [SCEA]

…

Expand
Developer:

Ready at Dawn

Genre(s):

Action

,

Platformer

,

Platformer

,

3D

,

3D

# of players:

24 Online

Cheats:

On GameFAQs

Rating:

E10+
Please enter your birth date to watch this video:
You are not allowed to view this material at this time.
If I had to hold one thing against Daxter (and Ready at Dawn) it's that they raised the bar so high that it's probably going to be a while before there is another PSP title that reaches this level of quality.

From the gorgeous graphics, solid control scheme to the writing and sound production, this one has "BUY ME" stamped all over it in big gold letters.

The pint-sized Daxter is every bit as good as its console counterparts, bringing all the best elements of the action-platformer Jak games fluidly to the PSP.

Lush visuals, solid gameplay and tight controls makes this one of PSP's best thus far.

One of the best platformers we've played in years. This handheld treat is a minor classic. [June 2006, p.73]

The formula from the original series has been transplanted to near perfection and the Ready at Dawn crew has added a few gems that will keep you coming back for more.

When you first take a gander at Daxter, you see a beautifully recreated Jak & Daxter game on the portable Playstation. Some thousand bug squishings later, you'll realise that looks can be extremely deceiving.
I got this game from my parents for a birthday gift and I returned it because I had no intrest in it. Then my friend gave it to me for my

I got this game from my parents for a birthday gift and I returned it because I had no intrest in it. Then my friend gave it to me for my birthday gift too. I decided to try it. It amazed me how they could fit such details and big things into this little psp. I loved this game. Almost everything was perfect. I loved the complex level desighn. But the story wasn't so good. Other then that it was one of my favs on psp!

…

Expand

Amazing game veey good story and so much fun best psp platform game very good game

Lovely graphics, memorable characters, intriguing level designs, laugh out loud humor, and the fact it is all portable.

Simply put, if youLovely graphics, memorable characters, intriguing level designs, laugh out loud humor, and the fact it is all portable.

Simply put, if you own a PSP, you SHOULD have Daxter

…

Expand

A great childhood game, I still remember how I killed bugs and flew in the final on a plane. For me, the final as a child was difficult. It's

A great childhood game, I still remember how I killed bugs and flew in the final on a plane. For me, the final as a child was difficult. It's good. In general, playing music and the environment leaves warm feelings and memories, returning to feel a pleasant taste of nostalgia.

…

Expand

I couldn't get past the part with the llillypad platforms but who cares it's still a good game

Daxter is a great PSP adventure that nicely compliments the Jak and Daxter series. Exciting gameplay is coupled with a fun campaign and

Daxter is a great PSP adventure that nicely compliments the Jak and Daxter series. Exciting gameplay is coupled with a fun campaign and although aspects such as the open world and game length are sized down for a portable device, the heart that characterized the series remains intact.

…

Expand

I sold this game for less than 9 Dollars. The graphics are good enough, no better than the very first PSP releases. It has nothing on Ratchet

I sold this game for less than 9 Dollars. The graphics are good enough, no better than the very first PSP releases. It has nothing on Ratchet and Clank; you really feel like you are nothing more than a furry side-kick, squishing bugs and achieving nothing. That being said the bosses were great fun... All two of them. The extra dream levels were also entertaining, all 5 minutes worth. The remainder of the title leaves a soulless, claustrophobic, dungeon crawler of a game with a slap of okay humour. I used the money to buy a screen protecter. A much better investment for when a real platformers hit the PSP.

…

Expand
| | |
| --- | --- |
| 5 | |
| 3 | #3 Most Discussed PSP Game of 2006 |
| 5 | #5 Most Shared PSP Game of 2006 |