Publisher:

Namco

Release Date:

Jun 28, 2005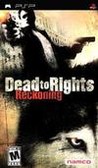 Summary:

Dead to Rights: Reckoning returns to crime-infested Grant City, as an important informant is kidnapped on the eve of the investigation of a major crime lord. Anticipating the worst if the crime boss is not brought to justice, Jack Slate and his K-9 companion Shadow thrust themselves into

Dead to Rights: Reckoning returns to crime-infested Grant City, as an important informant is kidnapped on the eve of the investigation of a major crime lord. Anticipating the worst if the crime boss is not brought to justice, Jack Slate and his K-9 companion Shadow thrust themselves into hostile gang territory to save the informant and bring peace to the City. Dead to Rights: Reckoning expands upon the blistering action of the series with a robust ranged and melee fighting system that allows Jack to spit lead and bust heads with ease, and an all-new selection of weapons and lethal disarms. Players will also have unprecedented control of Shadow, utilizing him to watch Jack's back and unleash savage canine fury on lowlife thugs. For the first time in the series Dead to Rights: Reckoning allows players to go head to head through wireless multiplayer death matches, adding hours of replay value to an already extensive single player campaign. [Namco]

…

Expand
Developer:

Rebellion

Genre(s):

Action

,

Shooter

,

Shooter

,

Third-Person

,

Modern

,

Modern

,

Arcade

# of players:

1-4

Cheats:

On GameFAQs

Rating:

M
A superb single player blast fest with hardly any load times is just what the doctor ordered, and a multiplayer mode made especially for those deathmatch enthusiasts really keeps the longevity of this title well up there.

I've passed this game around to people who have never even held a PSP before and they have picked up on the gameplay in less than ten minutes and have enjoyed it just as much as I have.

Perhaps the most damning thing about this game is that its simple nature is almost out of necessity. [Aug 2005, p.106]

Namco's foray into the PSP platform hits a huge snag, as Reckoning's overly simple and repetitive gameplay takes the skill (and fun) away.

If Namco just spent another month or two polishing the camera and targeting, it could have had a rock solid action title under its belt.

It's broken, it's brief, and it'll only make you wonder "what if" every time you play it.

Tough aiming, repetitive gameplay and totally uninspired story elements send the game into a downward spiral, one that ends with a very short single-player mode and few extras. This cop should be kicked off the force.
My all time favorite PSP game. As a big fan of the Hong Kong action cinema, I love the spectacular martial arts disarms, executions and the

My all time favorite PSP game. As a big fan of the Hong Kong action cinema, I love the spectacular martial arts disarms, executions and the bullet time shooting. Sure it has some bugs, but so does every game. There's a pretty nice variety of firearms in your arsenal and your dog, Shadow, is also a good "weapon". There is also multiplayer and there are challenge modes as well to keep you attached longer to the game. I recommend it to everybody who likes a good and fun third person shooter, similar to gaming classics like Max Payne or Stranglehold.

…

Expand

Plain and simple crime on the go fun...

Compared to dead to right for ps2 its about the same i like shoting games and this is the best 1 so far for psp. GTA is 1 that i cant wait

Compared to dead to right for ps2 its about the same i like shoting games and this is the best 1 so far for psp. GTA is 1 that i cant wait for. overall Dead to Rights Reckoning is a very fun and good game for anyone that likes shooting games.

…

Expand

The game is solid for a PSP game. Great quick to play game. Reviews have been WAY too harsh. The game is being compared to console versions,

The game is solid for a PSP game. Great quick to play game. Reviews have been WAY too harsh. The game is being compared to console versions, its not really fair. However, it does have it's bugs, but not bugs to take it any lower than a 6. I would give it a solid 7.5. It's fun, you get to kill stuff, and take it anywhere. What else can you ask for? The game is WAY worth picking up, you will enjoy it, I am, and the cheats you unlock make it even more fun!

…

Expand

This game is very fast paced the only major,and i mean major,problem is the camera. when ever you try to lock on a target it doesnt want to

This game is very fast paced the only major,and i mean major,problem is the camera. when ever you try to lock on a target it doesnt want to lock on what you want, you may be trying to lock on an enemy but the target lock will go to a barrel on the opposite side of the level. other than that a very fun game with good graphics.

…

Expand

Not a bad title but honestly too short and forgettable. I remember I picked this game once, beat it in almost one sitting and never touched it

Not a bad title but honestly too short and forgettable. I remember I picked this game once, beat it in almost one sitting and never touched it again. The gameplay was also too repetitive for its short duration.
Definitely not a must-play PSP game.

…

Expand

What were they thinking? Once again PSP has failed to impress me with a game with terrible controls and brain dead action. Once agan they

What were they thinking? Once again PSP has failed to impress me with a game with terrible controls and brain dead action. Once agan they runed a possibly good game due to faulty planing and rushing the job. They could have just set this one back a few months like all their other games...

…

Expand
| | |
| --- | --- |
| 68 | |
| 13 | #13 Most Discussed PSP Game of 2005 |
| 51 | #51 Most Shared PSP Game of 2005 |