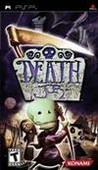 Summary:
Death, Jr. embarks with his friends on a school fieldtrip to the local museum. When the group sneaks away to explore on their own, they unwittingly unleash an ancient evil force from a mysterious locked box. Facing near insurmountable odds and the threat of being grounded and sent to military school, Death, Jr. and his pals must fight hoards of demons and their wicked master Moloch through the museum and surrounding town before anyone else finds out. In order to avoid being punished for his mischief, and to save his friends from eternal suffering at the hands of Moloch, Death, Jr. must eliminate the evil demon scourge that has taken over the town. Armed with his scythe and an arsenal of guns and explosives, Death, Jr. will battle through numerous action-filled levels towards a final confrontation with Moloch himself. [Konami]
| | |
| --- | --- |
| Rating: | T |
| Developer: | Backbone Entertainment |
| Genre(s): | Action, Platformer, Platformer, 3D, 3D |
| Number of Players: | 1 Player |
| ESRB Descriptors: | Blood and Gore Language Violence |
Designer/Producer/Programmer credits provided by
GameFAQs
.
If you contributed to this game and feel you should be credited, please read our
FAQ
.
| | |
| --- | --- |
| 61 | |
| 26 | #26 Most Discussed PSP Game of 2005 |
| 49 | #49 Most Shared PSP Game of 2005 |