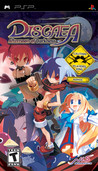 Summary:

Knife-wielding penguin henchmen that double as grenades. A rotten adolescent prince of darkness determined to rule the netherworld by hook or by crook. An open-ended structure that encourages players to keep playing the game and developing their characters long after the main storyline is finished.
Developer:

Nippon Ichi Software

Genre(s):

Strategy

,

Turn-Based

,

Fantasy

,

Fantasy

,

Tactics

# of players:

No Online Multiplayer

Cheats:

On GameFAQs

Rating:

T
Please enter your birth date to watch this video:
You are not allowed to view this material at this time.
Disgaea: Hour of Darkness Movie 2
Part of what distinguishes Disgaea from more run-of-the-mill SRPGs is its wicked sense of humor, which makes just unveiling the story a treat.

Overall, I was very very pleased with Afternoon of Darkness. Welcome back to the front of the Strategy RPG pack, Disgaea. We missed you.

Disgaea: Afternoon of Darkness stands side by side with the likes of Final Fantasy Tactics and Jeanne D'Arc as one of the best PSP games to hit the system in 2007.

Those who've never experienced the story and fun on offer should take a look and owners of the original game still owe it to themselves to buy this game.

Arguably the greatest and most substantial strategy RPG you'll get on PSP. [Jan 2007, p.69]

For portable role playing on the go you can't do much better...okay, "Jeanne de Arc", but that's it. [Oct 2007, p.94]

The game really is a niche title that is going to appeal to only a small group. I'm certainly a part of it, but even I feel like the extreme customization gets to be a bit much.
A very good port of the excellent PS2 game with bonus Etna storyline to boot. Wonderful. If you are a SRPG fan then you should not miss this.

I began to play this game only in 2012, and i think it's one of the best on PSP. I loved Jeanne d'Arc but Disgaea is much deeper in terms of

I began to play this game only in 2012, and i think it's one of the best on PSP. I loved Jeanne d'Arc but Disgaea is much deeper in terms of gameplay and more attractive because of outstanding humor, character design etc.

…

Expand

A fantastic turn-based strategy title. Disgaea by day - recharge PSP by night.

This game is simply amazing. As a fan of SRPG's, I was amazed by how different it was, what with the fast gameplay, amazing graphics and

This game is simply amazing. As a fan of SRPG's, I was amazed by how different it was, what with the fast gameplay, amazing graphics and skill animations, quirky dialogue/characters, and the great replayability. Combine all that with some exploding penguins and it's Disgaea. I did get tired of the game though, but that was after 200 hours of massive hardcore extras that i just needed to play. I can't wait for a Disgaea 2 PSP.

…

Expand

Exceptional port of the PS2 classic. Contains pretty much everything from the original (and, in my opinion, best) Disgaea game plus a few

Exceptional port of the PS2 classic. Contains pretty much everything from the original (and, in my opinion, best) Disgaea game plus a few additional features. The save and loading times are almost non-existant! Despite ploughing a silly amount of hours into this game a few years ago I find myself doing the same again... brilliant stuff and probably one of the top 3 SRPG's I've played in the last 25 years...

…

Expand

a great SRPG by nippon itchi . this company knows how to make great SRPG's . the story is entertaining the alot of fun special moves and 100s

a great SRPG by nippon itchi . this company knows how to make great SRPG's . the story is entertaining the alot of fun special moves and 100s of hours of gameplay , good voice acting with some deep gameplay. ive never played the PS2 version of this game infact ive never even heard of the disgaea series till i played the 3rd on the PS3 but if you havent as well deffinitly get the PSP version if you have a PSP you get much more extra content . they have added etna mode which gives you Etna as the main charicter and story is told as a what if she killed laharl. the iitem world isnt as good as the 3rd's setup . i also miss the class world because of how easy it is to transfer skills . also staticians seem to do little compared to what they do in the 3rd. still this is the first in the series and just shows you how much they have improved the 3rd . still any SRPG fan should have this game in there collection .

…

Expand

fun gameplay and writing, until you hit a wall and realize you were supposed to be playing a certain way or face an insanely boring repetitive grind
| | |
| --- | --- |
| 3 | |
| 10 | #10 Most Discussed PSP Game of 2007 |
| 3 | #3 Most Shared PSP Game of 2007 |