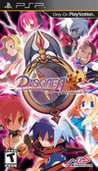 Summary:

Disgaea Infinite is a spin off of the Disgaea series. However, unlike other Disgae titles, Disgaea Infinite is an Adventure Novel style game. BUT it still has the usual Disgaea humor and ridiculous story as always. Finally, you can play with a Prinny as your main character in a Disgaea game!

Disgaea Infinite is a spin off of the Disgaea series. However, unlike other Disgae titles, Disgaea Infinite is an Adventure Novel style game. BUT it still has the usual Disgaea humor and ridiculous story as always. Finally, you can play with a Prinny as your main character in a Disgaea game! One day, Laharl was almost assassinated, and they comanded a Prinny to find this fool who tried to assassinate Laharl! Of course, the Prinny has no choice but to obey his orders. What could this helpless, useless vassel (according to Etna) do to figure out who the unsuccessful assassin was!? Well, the Prinny comes across this clock, Tick Tock, which lets him take over other characters' minds and bodies. You can use Tick Tock to see who is lying and had been planning on assassinating Laharl. [NIS America]

…

Expand
Developer:

Nippon Ichi Software

Genre(s):

Adventure

,

General

,

General

,

Visual Novel

Cheats:

On GameFAQs

Rating:

T
Disgaea Infinite is one of those rare games. It plays like a visual novel, but it will also appeal to fans of the Disgaea RPG series.

If it was a full price PSP game, it really wouldn't be worth the money, but at $20 and the sheer number of endings, it's probably worth it for fans of Disgaea or adventure games in general.

Heading down the interactive novel path isn't exactly what most Disgaea fans had in mind. However, for the love of the characters and the chance to take another journey into the bizarre fun-loving Netherworld, it's worth enduring.

Disgaea Infinite is like having a stack of comics with only one that can be read until you figure out the proper order in which the pages need to be flipped.

A visual novel on mobile platform seems like a match made in heaven, but Disgaea Infinite's cumbersome interface and reliance on repetition render it more flawed that fascinating.

Although each playthrough will only take an hour or so, if you want to experience all of the different paths as well as the game's 13 endings, you will need a good six hours or so. Just be prepared for a lot of repetition.

The only thing infinite about this game is how often it feels like you're running through the same situations and scenarios.
This game is only for Disgaea fans. They will know "what's going on with these penguins" or other things. This game is really short- 1h.

This game is only for Disgaea fans. They will know "what's going on with these penguins" or other things. This game is really short- 1h. That's a disappoint, isn't it? Yep, it is. But it has 24 endings, so that's a lot.
Do you like disgaea games? Buy it. You don't like disgaea games? Don't buy it. Simply.

…

Expand
| | |
| --- | --- |
| 44 | |
| 37 | #37 Most Discussed PSP Game of 2010 |
| 33 | #33 Most Shared PSP Game of 2010 |