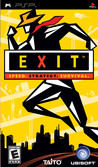 Summary:

As "Mr. ESC", a professional escapologist who can rescue people from just about any situation, Exit players must guide themselves through numerous obstacles while rescuing victims from life-threatening situations. Situations include braving fires, earthquakes and other disasters in various

As "Mr. ESC", a professional escapologist who can rescue people from just about any situation, Exit players must guide themselves through numerous obstacles while rescuing victims from life-threatening situations. Situations include braving fires, earthquakes and other disasters in various environments such as buildings, hospitals and subways. Players will undertake myriad actions, including running, jumping, climbing onto ledges and climbing down ropes on their way to becoming the ultimate escape artist. Players use decision-making skills and wits to escape various obstacles while rescuing people from more than 100 different emergencies. Additional levels are also available for download. Do whatever it takes to get everyone out in time: Rescue people and find the fastest way out while braving exploding factories, burning buildings and flooding subways. Players will climb ladders, move objects, slide down ropes and collect numerous rescue devices to assist them in their missions. Turn victims into allies: Saved characters can be enlisted to help move heavy objects, master tricky obstacles and help each other. Smooth, stylish character design and movement: Accompanying the intense action are some of the most stylish graphics to be seen on the PSP system, allowing for a viscerally and aesthetically satisfying experience. [Ubisoft]

…

Expand
Developer:

Taito Corporation

Genre(s):

Miscellaneous

,

Puzzle

,

Puzzle

,

General

,

Puzzle

,

General

# of players:

24 Online

Cheats:

On GameFAQs

Rating:

E
Please enter your birth date to watch this video:
You are not allowed to view this material at this time.
A perfect fit for the PSP -- creative, stylish, and easily broken into the bite-sized chunks that work so well when gaming on the go. It's also a stellar game by its own merits.

Even if you're not a big fan of puzzle games you'll enjoy the structure of the puzzles that are anything but obtuse or arbitrary.

The game has the potential to keep you playing for hour after hour, but is more likely to find a home in your PSP case, just waiting to be played when you have a spare five minutes.

It's hard to find reasons not to point to Exit as a prime piece of PSP gaming. It's rich colours and bold stylings bring out the best in the machine's screen; the short, compelling levels are perfect for playing in bite-sized chunks, and wi-fi connectivity means new levels – of which Taito has already made a good few available - will sustain your enthusiasm longterm. [Fe 2006, p.90]

With its own distinct approach to puzzle gameplay, and a unique visual style, Exit really stands apart from the crowd.

While the gameplay will likely be hit or miss depending on your genre preferences, it's difficult to deny that Exit's interesting graphical style and presentation that make it one of the more memorable games to be released for the PSP.

For every devilish puzzle that you crack, there's a moment of annoyance due to the clunky controls or slow character movement.
Just picked up a copy of Exit and I must say,it is one of the best games out for the PSP. Great graphics,fun puzzles and fantastic art style.

Just picked up a copy of Exit and I must say,it is one of the best games out for the PSP. Great graphics,fun puzzles and fantastic art style. Don't listen to IGN's bad review, this is a great game with over 100 levels and more downloadable ones on the way. Very high replay value as I kept wanting to go back and get a higher score on each level. If you want an innovative puzzler, pick this one up right away!

…

Expand

This game is great for the bus ride to work/school. Each level is short enough to do in a few minutes ... once you figure it out. One thing

This game is great for the bus ride to work/school. Each level is short enough to do in a few minutes ... once you figure it out. One thing missing is multiple save files so my wife can have her own game history.

…

Expand
| | |
| --- | --- |
| 31 | |
| 95 | #95 Most Discussed PSP Game of 2006 |
| 71 | #71 Most Shared PSP Game of 2006 |