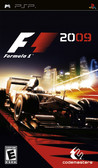 Summary:

(Also known as "Formula One 2009") F1 2009 offers a fully authentic FIA Formula One championship experience with all the teams, drivers, cars and tracks from the 2009 season.
Developer:

Sumo Digital

Genre(s):

Driving

,

Racing

,

Simulation

,

Formula One

,

Formula One

,

Automobile

# of players:

Up to 4

Cheats:

On GameFAQs

Rating:

E
The single-player is jam-packed with varied game modes. The simulation of Formula One racing is very accurate. As a bonus, playing with friends through ad-hoc support is a nice touch.

Playstation Official Magazine UK

Can be as thrilling as the season it's based on. [Christmas 2009, p.113]

Drier than a slice of unbuttered toast. [Jan 2010, p.95]

F1 2009 falls squarely into the category of average racer.

A good racer that feels sort of unfinished in places. It's fast and controls fantastic, but the bad AI, dated graphics and long loading times don't exactly help. There's a solid start for the future here, but it's not quite there yet.

A feature-rich racer hamstrung by inaccurate controls. [Issue#187, p.75]

If you absolutely, positively must have your F1 and can't get it anywhere else, F1 2009 is worth a peek. For everyone else, though, there's simply not enough here to really make a lasting impression.
The game is just amazing. I love play this game. For me this game is amazing ! Nothing more to comment because this game is amazing ! I rate

The game is just amazing. I love play this game. For me this game is amazing ! Nothing more to comment because this game is amazing ! I rate this 10/10

…

Expand

Finally the FIA has given the F1 licence to Codies. They have doon a pretty god job with F1 2009. While the graphics aren't brilliant, the

Finally the FIA has given the F1 licence to Codies. They have doon a pretty god job with F1 2009. While the graphics aren't brilliant, the gameplay is awesome. When it is set to "Hard", it becomes challenging to even get into Q2 with a slower car. The driving model is awesome and the handling is realistic.The Menus are simple and it is a doddle changing the settings of your car. This game is part of PSP essentials now so it is dead cheap too. Lets just hope Codies can really break the barrier (puns FTW!) in F1 2010.

…

Expand

It's been a long time since the FIA has allowed someone to make a new F1 game, and for the most part it isn't really anything

It's been a long time since the FIA has allowed someone to make a new F1 game, and for the most part it isn't really anything brilliant, but it's not a bad effort. I've not played the Wii version, but it looks really bad on the adverts. As for the PSP version, it has enough to keep you interested - A simple to use interface for adjusting your cars technical specs, An interesting way of implementing KERS as if it is some kind of turbo boost each lap, and a nicely implemented Career mode. One let down is that in congested areas or in areas where there are a lot of scenery and buildings, the frame rate almost kills you. Playing with full rules and damage on can seriously annoy you as it is really easy to make a mistake. Good effort, but in the words of my old school teachers "must try harder".

…

Expand

i am A Great F1 fan to say! and this F1 game not is the best game of 2009. i tell you why...
The graphics; are okay just smooth, detailedi am A Great F1 fan to say! and this F1 game not is the best game of 2009. i tell you why...
The graphics; are okay just smooth, detailed track, great f1 cars models
nice weather effects and etc...
the sound; are okay too, it the cars engine sounds are all mediocre.
the gameplay is just very hard to master on track specially wet track conditions!
the handling is just bit awful sometimes, like your without traction control I Dont Know.
anyway It is a Fair Game! but im giving 7.1/10 for this one! GOOD
IM DONE REVIEWING THIS.

through bring me much memories and nostalgia

…

Expand

Now this is a game that nostalgia doesn´t affect the rating. I didn´t like even as a kid.

Controls.. only thing that the game fails with is the controls. PSP analog stick is worthless in this game and with D-pad there's no way you

Controls.. only thing that the game fails with is the controls. PSP analog stick is worthless in this game and with D-pad there's no way you can control the car accurately. Not even the steering assist work properly. Other than that, there's nothing wrong. But lack of decent controls makes the game almost unplayable.

…

Expand
| | |
| --- | --- |
| 40 | |
| 24 | #24 Most Discussed PSP Game of 2009 |
| 11 | #11 Most Shared PSP Game of 2009 |