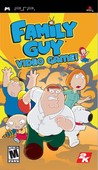 Summary:

The first video game based on the hugely popular Family Guy TV show, the Family Guy game will feature the same outrageous humor all the fans know and love. Play through three stories that intersect in typical Family Guy fashion. Play as the loveable Peter, the diabolical Stewie and the

The first video game based on the hugely popular Family Guy TV show, the Family Guy game will feature the same outrageous humor all the fans know and love. Play through three stories that intersect in typical Family Guy fashion. Play as the loveable Peter, the diabolical Stewie and the charismatic Brian. Visit familiar locations around Quahog and interact with many beloved characters from the show. Funny and unique combination of combat, stealth and puzzle-solving gameplay. Take part in the jokes, parodies and sarcasm as though you were part of the show. [2K games]

…

Expand
Developer:

High Voltage Software

Genre(s):

Adventure

,

General

,

General

,

3D

,

Third-Person

# of players:

1 Player

Cheats:

On GameFAQs

Rating:

M
Please enter your birth date to watch this video:
You are not allowed to view this material at this time.
Family Guy Gameplay Movie 1
What's most impressive is the way a lot of humor is injected into the actual gameplay.

It's a decent rental, in the same way that a softcore flick about aliens coming to earth to learn the ways of love is fun once, but there's no real longevity to any one part of the game.

Though it gets the show's style of humor down pat, Family Guy is derailed by frustrating and uninteresting gameplay.

Official U.S. Playstation Magazine

Trouble is, the designers seem to be unaware of the fact that occasionally the player may die and be forced to restart an area...and listen to the same, unskippable, longwinded intro each time. [Jan. 2007, p.86]

Seems better suited as a handheld...sort of. [Jan 2007, p.88]

It's repetitive, boring and even frustrating way more often than it should be.

Most of the action is aggravating, but Brian's stealth missions are intolerable. In several of his levels, you have to steer him away from trees, or he'll lose control and make you wait while he takes a whiz.
BEST GAME EVER! Its one of the best games I have ever played on the PSP, liberty city and vice city storie don't add any spice and

BEST GAME EVER! Its one of the best games I have ever played on the PSP, liberty city and vice city storie don't add any spice and laughter to a game. The missions as Peter are a good blend of fighting and laughter, caracking jokes as you kick heads in of famous family guy characters from around quahog, rhode island. Brians missions may be the worst but by no way are they bad, they are tense and shocking as you try to stealth your way throughout the various places of quahog, cracking dog jokes every odd turn. Rule Stewie, he makes this game! The best character ever put into a , his missions are a good blend of shooting and using his various devices, family guy rules, get it, NOW!

…

Expand

It's a well made game! It deserves more credit than its getting!

One of the worst game ever. I hope family guy fans don't go out to buy this because it is a waste of money. the charcters are bland the

One of the worst game ever. I hope family guy fans don't go out to buy this because it is a waste of money. the charcters are bland the levels are boring. The only good part is the voices and that raises it all whole 2 points

…

Expand

Rubbish. Absolute rubbish. I was completely dissapointed from many points of view. Jokes were constantly being reused, the gameplay is just

Rubbish. Absolute rubbish. I was completely dissapointed from many points of view. Jokes were constantly being reused, the gameplay is just aweful, and the graphics had the potential to be good, but they were bland. The only real good thing about it was the voice acting. I'm not a Family Guy hater since I completely loved the first 3 seasons, but this game is just aweful, and the sad this is that Family Guy drones will buy it simply because it is about Family Guy.

…

Expand

Reused jokes and boring game play hold this game back, it's so boring and the story is garbage I am a huge fan of the show and I hated this,

Reused jokes and boring game play hold this game back, it's so boring and the story is garbage I am a huge fan of the show and I hated this, do not buy this game you will regret it.

…

Expand
| | |
| --- | --- |
| 49 | #49 Most Discussed PSP Game of 2006 |