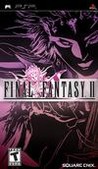 Summary:

In FINAL FANTASY II, a malevolent emperor has called upon monsters from a demonic realm to take over the world, ending what seemed to be an eternal period of peace. Thousands of lives succumb to their attacks, leaving many children orphaned. From the destruction rise four young survivors who

In FINAL FANTASY II, a malevolent emperor has called upon monsters from a demonic realm to take over the world, ending what seemed to be an eternal period of peace. Thousands of lives succumb to their attacks, leaving many children orphaned. From the destruction rise four young survivors who will take it upon themselves to stop the merciless ruler and avenge the death of their parents. This all-new anniversary edition contain the best treatment of the classic RPG and features all-new character art, updated graphics, new dungeons, full 16:9 widescreen presentation and an updated camera view that gives players a new vantage point. [Square Enix]

…

Expand
Developer:

TOSE

Genre(s):

Role-Playing

,

Console-style RPG

,

Console-style RPG

,

Japanese-Style

# of players:

No Online Multiplayer

Cheats:

On GameFAQs

Rating:

T
It feels much more fun and fresh than its predecessor. [Aug 2007, p.83]

Exciting turn-based battles that grow tiring from time to time. The strategic elements are the most interesting.

Final Fantasy II is a game that sports a refreshed look and feel, but a noticeable lack of added features and content puts a damper on this celebration.

This is the worst Final Fantasy game, and that is a very hard thing to say for a diehard FF fan such as myself.

It's hard to argue that the minor tweaks to FFII -- though improvements they may be -- really justify its being sold individually when it's previously been packed together with the original Final Fantasy so many times.

Final Fantasy II is the first to truly deliver that experience of being transported to a world filled with fluffy yellow birds and medieval flying machines.

Final Fantasy II was a poor videogame in 1988 and no amount of spit and polish will perform the necessary shifts to its foundations to produce a good one in 2007.
A great game with fun gameplay and a satisfying story, simple as that. I really enjoyed the leveling system, it feels like you have actual

A great game with fun gameplay and a satisfying story, simple as that. I really enjoyed the leveling system, it feels like you have actual control of how your characters grow

…

Expand

This review contains spoilers

, click expand to view

.

It doesn't matter what others may say, this is an AMAZING game! The story is really good, especially for a game from like 1989 or something like that. I love the new mechanics, and how every character is the same but different. The NES version is really good, but what makes this version way better is the fact that 2 of the most unique bonus dungeons in the whole series are here, one of which might just be my favorite FF bonus dungeon of all time, that being the Arcane Labyrinth. The way you go to different floors based on what word you say and how unique each floor is mames for a great time, even if it doesn't make sense. I spent so much time here i had 3000 HP while I still had Josef! The Soul of Rebirth is great too, how you play as all the characters that died during your quest to defeat the Emperor. You even get a character that wasn't playable before in your party, Scott! I love how the castle there is like a mirror of Pandemonium, but everything is light instead of dark, and how you fight the Emperor again but the light version, it's so cool! I just love this game, even if others disagree.

…

Expand

This is definitely one of those rather "different" final fantasy games. This game probably plays more like the saga series, but with a linear

This is definitely one of those rather "different" final fantasy games. This game probably plays more like the saga series, but with a linear storyline that most final fantasy games come with. There's a couple additions that add some new flavor to the game but for the most part not much has changed from the gba version.

…

Expand

Final Fantasy II is an enhanced remake of the original Final Fantasy II on the NES and the 2nd Final Fantasy on the PSP system.

Story: TheFinal Fantasy II is an enhanced remake of the original Final Fantasy II on the NES and the 2nd Final Fantasy on the PSP system.

Story:
The story starts with 4 friends (Firion, Maria, Guy, Leon) being hunted by the Palamecian Emperor and getting nearly slaughtered, while barely escaping with their lives, they wake up in the house of the resistance with only Maria's brother Leon missing, the story starts from here on out, trying to thwart the Emperor and toppling him.

Gameplay:
The game plays like any other Final Fantasy, running around in towns talking to people gets you information while traversing the overworld or some of the many dungeons gets you into fights with monsters, a feature not seen in any other Final Fantasy game however is the level-up system, in my opinion a pain in the back...

The system works by increasing whatever you're using the most, say you attack a lot, then your Strength/Weapon Proficiency go up, if you cast Blizzard a lot, your MP/Intelligence/Blizzard spell will go up, etc etc... the problem with this system is that you'll need a lot of grinding getting your characters where you want them to be, fun for some, not so much for others...

There's also a new kind of conversation system, where someone would say something important (marked in red) and as a response you can "Learn" that keyword, later asking other characters about this keyword, in turn they might provide you another one, some keywords progress the story or give answers to plot questions.

Last but not least, there is some extra content in the Shrine of Souls and the Arcane Labyrinth.

Controls:
Everything you expect from a first generation Final Fantasy game, movement is mapped to the D-Pad and the Analog stick does nothing as do the shoulder buttons on their own, however if you press R1 O you open the world map, triangle opens the menu and X usually gets you talking or has you inputting commands while O cancels stuff.
I do kinda regret you cannot walk diagonally, I'm assuming it was too much of a hassle to change from the original NES version

Graphics:
The graphics have gotten a much improved bump from the original and a crispier look then the PS1/GBA versions, all characters have their own distinct look, the overworld looks a lot better and everything just looks right!

Music:
Another bump in the music department, from the NES version it's a big step, from the PS1/GBA version, it's kinda the same music but better quality, the tracks from Nobuo Uematsu are as strong as ever and come to life with the better quality, there's even some added tracks not found in the original NES version.

Positives:
+ Battles are fun typical FF style.
+ The music has gotten even better with the enhanced treatment.
+ The game looks better then ever!
+ Extra content

Negatives:
- The level-up system is horrendous...
- Barebones story, I know this is just the story from the NES, but extra narrative would be nice.

Conclusion:
Worth a play as a Final Fantasy fan, but surely the weakest of the main series, while Firion and the Emperor are strong characters to keep you going, for me the flaws of the leveling system overweighs all.

…

Expand

Bel livello di difficoltà e trama carina ! Anche i personaggi sono ben fatti !non male !

Completion:

- Finished all content besides from the optional dungeon. Pros: - Gorgeous sprite art - Another great UematsuCompletion:

- Finished all content besides from the optional dungeon.

Pros:

- Gorgeous sprite art

- Another great Uematsu soundtrack, though less memorable than much of his other work with the series

- QoL improvements are substantial and improve the flow of the game greatly. The ability to save anywhere and the streamlining of movement/combat options is much appreciated.

- Much improved level design over the first game, especially with the final dungeon. It is significantly less frustrating, although I do not know if that is simply a result of adjustments in the remake.

- Extremely ambitious plot for a game that was originally for the NES. While today it seems like nothing to call home about, when compared to its console contemporaries, FFII is quite substantial in its narrative.

- Dialogue system is interesting and far exceeds other JRPGs of the time, despite its relative simplicity.

Cons:

- Obtuse leveling system that makes progression feel underwhelming. The "subtlety" of it also causes your various party members to feel rather similar to each other. No one is locked off from any equipment or abilities at any point in the game, which takes away much of the personality behind having a "mage", "fighter", or anything of the like. This is definitely my biggest gripe with the game and the whole experience is less rewarding because of it.

- Forgettable characters. FFI allowed you to create your own characters, which created a deeper connection with them simply as a result of player agency. However, FFII gives you a set of party members with preset identities and personalities that ultimately feel bland and uninteresting.

- Economy is awful and you get way too much money, even compared to other games in the series

- Spell system is perhaps the worst in the series, mainly for the reasons discussed in the first point. Having to cast your spells repeatedly in order to make them stronger sounds good in theory, but in practice it manifests as even more repetitive grinding.

- Your fourth party member often feels like a throwaway meat shield

True Score: 7.3

…

Expand

El juego intenta ser diferente al FF original, y lo consigue... Pero para mal. Para empezar, no hay EXP, y tienes que subir todas tus stats

El juego intenta ser diferente al FF original, y lo consigue... Pero para mal. Para empezar, no hay EXP, y tienes que subir todas tus stats "una por una" realizando diferentes acciones en el combate. En teoria no suena mal, sin embargo, el juego no tiene ningún tipo de balance, y, o llegas a la mazmorra de turno ultra chetado, o te mataran en segundos. La historia y los personajes tampoco es que sean muy memorables, y la banda sonora tiene algunas canciones muy buenas como la del mundo abierto, la del combate o la batalla final, pero en general es un ost bastante normalito. En general es un juego bastante mediocre y uno de los puntos flojos de la franquicia.

4/10

…

Expand
| | |
| --- | --- |
| 63 | |
| 23 | #23 Most Discussed PSP Game of 2007 |
| 20 | #20 Most Shared PSP Game of 2007 |