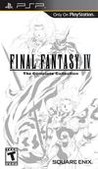 Summary:

Final Fantasy IV: Complete Collection contains both Final Fantasy IV and The After Years in one collection.
Developer:

Bullets

Genre(s):

Role-Playing

,

Miscellaneous

,

General

,

Console-style RPG

,

Compilation

,

Compilation

# of players:

No Online Multiplayer

Cheats:

On GameFAQs

Rating:

E10+
Please enter your birth date to watch this video:
You are not allowed to view this material at this time.
Final Fantasy IV Complete Collection Official Trailer
At the mere mention of the name Final Fantasy IV, I was all over the opportunity to review this game. This is one of my favorite Final Fantasy of all time and easily one of the greatest RPGs ever made. It has memorable characters, awesome music and a story that is truly exceptional. You would be crazy not to pick up the Final Fantasy IV: The Complete Collection for PSP. Doesn't matter if you've played it a few times or a hundred, this is a RPG for the ages.

Final Fantasy IV celebrates his 20th birthday with this gorgeous collection, that includes a "new look version" of the original game, The After Years sequel, a new section called Interlude and a lot of bonus materials that will drive you crazy.

If you've never experienced old school Final Fantasy, this is the perfect way to get acquainted.

Final Fantasy IV's gripping story and fast-paced combat make this sizeable collection fun from start to finish.

Final Fantasy IV is still one of the best game in the series. The expansions and visual improvements turn this edition into the ultimate edition of this gorgeous game – at least for those who take a gameplay experience over the visuals.

That said, FFIV is still one of the best RPGs of all time, and if you STILL haven't played it and don't own a DS, now is your chance. Even without the graphical update, the greatness of the game shines through and is one of those that everyone should play before they die.

FFIV is still the same ol' game, as classic and playable as ever, but SE expecting you to pay for it once again (along with the joke that is Interlude and the hit-or-miss After Years) is outright greedy.
Before I begin, let me establish my background as a gamer. I started at 8 ('84) with a nes, but didn't get into the rpg scene until about

Before I begin, let me establish my background as a gamer. I started at 8 ('84) with a nes, but didn't get into the rpg scene until about 2005 with FFX on PS2 and also played about 1/4 way through FFXII. I've played about 80% of all zelda titles, and plan on completing all of them, as well as the FF series. That is why these PSP remakes are a Godsend. The extremely crisp updated graphics make every town an absoulte pleasure to explore, and the level of detail doesn't leave much for the imagination to correct - no hard, jagged 8-bit style steps here, just crisp, rounded edges. As far as gameplay, I'm am absolutely thrilled it is all intact and untouched so because I get to experience what made it a classic in the first place. All in all, if you missed out first time round, get all the psp remakes, and if you don't have a psp, then this should be reason enough. Peace yall.

…

Expand

Final Fantasy IV is an amazing game, often considered one of the best RPGs of all time. The Comple Collection on PSP not only offers a

Final Fantasy IV is an amazing game, often considered one of the best RPGs of all time. The Comple Collection on PSP not only offers a remastered version of the original game, but it also includes Final Fantasy IV: The After Years and The Interlude, which links the story of the two games. Now, I'm not saying that The AFter Years and The Interlude are amazing games, but I'm giving this collection a 10 because of the original game. For any fan that wants to play full story of the 4th entry in the series, or anyone who wants to try it, get this.

…

Expand

If you are new to turn-based RPGS, this might be the best introduction to the genre for a portable system. After many, many years, I finally

If you are new to turn-based RPGS, this might be the best introduction to the genre for a portable system. After many, many years, I finally revisited my very first RPG remake and had a wonderful time playing it and its new successors. I was maybe 6 at the time playing on a emulator. Despite all the wonderful new games out there now, I still rather sat down and enjoyed this piece of history.

…

Expand

Still one of the best Final Fantasy games. The improved music still sounds great, the graphics have been enhanced, but the extra stuff just

Still one of the best Final Fantasy games. The improved music still sounds great, the graphics have been enhanced, but the extra stuff just isn't that good. It provides some backstory, but that's it, really.

…

Expand

Completion: Did not play post-game content, Interlude, or The After Years.

Pros: - Story and characters are a substantial improvement overCompletion: Did not play post-game content, Interlude, or The After Years.

Pros:
- Story and characters are a substantial improvement over the previous games in the series. While this isn't exactly a very high bar, FFIV is strong enough in this department to push the player into wanting to find out what happens next.
- Summons make for a great, flashy system that is implemented better than in any of the previous installments.
- Auto-battle makes an appearance. In my opinion, this is a must have in every single old school JRPG (and many modern day ones as well), so I am glad to see it here.
- Visually wonderful. The game manages to retain an old-school charm while offering beautiful and completely redone sprite art.
- Another wonderful Uematsu score that hits at all the right moments and perhaps his best OST up to that point in his career.
- ATB is introduced to the series in FFIV and there is no question of why it reappeared 7 more times in the main series. The addition of the ATB gauge creates a frenetic pace that can liven up the typically slow pace of JRPG battles while maintaining the same tactical rigor. This is an incredible innovation that defined Final Fantasy for over a decade and should not be overlooked.

Cons:
- Although the ATB is a welcome addition, the battle system as a whole is still rather one-note and there is close to no customization when it comes to character progression. This is disappointing since every the two previous games in the series had at least some way you could make your party your own, and even the original game at least made it so that party composition was meaningful.
- Too many of the party members are useless in battle or at the very least completely outclassed by others in the cast.
- The first half of the game was too easy and felt rather trivial.
- Far too many "puzzles" involving trick walls and paths. These are not creative or fun to deal with.
- Random encounter rate feels incredibly wonky, with them feeling both too frequent and too rare at different points in the game.

Final Word:
FFIV is the classic JRPG in its most pure form, with a story that vastly outstrips its predecessors and a battle system that, although still unrefined, would come to change the JRPG forever due to the revolutionary ATB gauge.

True Score:
7.8

…

Expand

The complete version of the game. It contains the main Final Fantasy 4 game, a newly created "Interlude" scenario that connects it with "The

The complete version of the game. It contains the main Final Fantasy 4 game, a newly created "Interlude" scenario that connects it with "The After Years". Final Fantasy 4 itself is underrecognized and outshined by Final Fantasy 5 and 6 on the SNES. While at least FF 6 is the better game I still say it is worth playing and deserves its place in the better games of the franchise. It was back then the first Final Fantasy on the SNES and showed clear improvements for graphics and soundtrack. It has the turn based Active Time Battle system which was common and is unique that the party consist of up to 5 characters (other games FF games have only 4 or 3). The story starts when the kingdom of Baron attacks the city state of Mysidia to steal their elemental crystal (The elemental crystals are a theme of the older FF games). Cecil captain of the attacking elite unit ask his king afterwards about his reasons for this seemingly needlessly bloodshed. He is demoted and together with his friend Kain send on a mission to deliver a ring to the Village of the Mist. This is the start of the adventure and the ambitions of his king will not be the only nor the biggest problem they will face. The game has a good story for franchise standards and great characters that won me over. The Interlude continues with a new story after the conclusion of the main game and is a set up for the "After Years". I don't give a set up because of spoilers. The "After Years" concludes the story and is set years after the "Interlude" so you see how the world and characters have grown. I avoid a set up too because of spoilers. It gives however a satisfying conclusion for me. To be fair many complain that both additions have a similar story and are not that unique. I cant deny that it is a valid point and must warn you that it has not much impact or remarkable points. The more I think about it the more I agree and it is basically a rinse and repeat. The characters are like I said great and won me over. Be it Cecil's and Kain's struggles, Rydias story, the magic twins, a spoony bard or all the others. I was invested in them and it was enjoyable. Even after all the years I remember many scenes and that it created emotions. This is more valid for the main game. Bonus for the humor and that you see how their stories continue in the later parts. Gameplay wise it has the Active Time Battle system, random encounters and a huge world to explore. Each character has a job that sets up his / her abilities. This cant be changed manually. Each job has unique abilities like a White Mage is of cause a good healer but weak fighter and a Dragoon a good fighter with a jump attack but not one that can heal (except items) or deal magic damage. You have to adapt to this and use the strengths of your characters. Also some battles require good strategy or an overpowered party. Of cause there is a lot to explore and some hidden stuff as required per RPG standards. Presentation wise they improved the graphics and it looks really good. They left the style intact and after a horrible adaptation of new graphics for a FF6 port I give credits here. The soundtrack is always good for a Final Fantasy game and I never complained. This is a staple of the series and even FF13 which was pretty mediocre could not break this streak. Overall I think the "Interlude" and "After Years" weaken the overall rating. It is not bad by any standard but also not amazing or to write home about. I give a 7/10 as the main game is still pretty good and an insider tip in the franchise.

…

Expand

Was having so much fun up to the Interlude, what is that garbage? Reminds me of that horrible addon to the PSP Final Fantasy II. Just another

Was having so much fun up to the Interlude, what is that garbage? Reminds me of that horrible addon to the PSP Final Fantasy II. Just another frustrating Square Enix filler. I really don't like Square after these silly handheld games. I give it a 0 just for that ridiculous part.

…

Expand
| | |
| --- | --- |
| 8 | |
| 7 | #7 Most Discussed PSP Game of 2011 |
| 7 | #7 Most Shared PSP Game of 2011 |