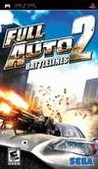 Summary:
Full Auto 2: Battlelines blasts onto the PSP with a constant barrage of high-octane demolition. While the player races full-throttle through the city, their strategically timed missiles will bring down buildings and other elements on opponents and set off fiery chain reactions. Players wreak vehicular mayhem in both arena-combat and racing-combat modes with 15 customizable vehicles stocked with explosive weapons of their choice. A whole new career storyline awaits with challenging new pick-up-and-play modes, goals, and rivals all bent on mass destruction. Strategically targeted destruction opens up invaluable new routes and blocks opponents. New career storyline: A 50+ event single-player career path with multiple modes, objectives, destructive weapons, areas, and rivals to unlock. Numerous single-player and multiplayer races via ad hoc, such as Head-On, Down & Back, as well as Arena Deathmatch modes challenge players with a variety of objectives. Players obliterate and wreak havoc in 15 cars - nine brand new to the PSP version. All-new weapons: Customize vehicles with light, medium and heavy weapons including the M16, Grenade, M60, M203 Launcher, Aircraft Gun, Mortar, Fire & Forget Missile, and Heat-Seeking Missiles. Over 15 original tracks: Three unique new districts on the PSP system, each offering six tracks including Point-to-Point, Circuit, and Arena levels. AAA licensed soundtrack: Obliterate the city while listening to popular tracks by Stone Sour, Sum 41, We Are Scientists, Wolfmother and others. [Sega]
| | |
| --- | --- |
| Rating: | E10+ |
| Official Site: | http://www.sega.com/gamesite/fullauto2/ |
| Developer: | Deep Fried Entertainment |
| Genre(s): | Simulation, Driving, Car Combat, Car Combat, Vehicle, Combat |
| Number of Players: | 1-4 Players |
| ESRB Descriptors: | Mild Lyrics Violence |
| Connectivity: | Wi-Fi |
Designer/Producer/Programmer credits provided by
GameFAQs
.
If you contributed to this game and feel you should be credited, please read our
FAQ
.
| | |
| --- | --- |
| 89 | |
| 64 | #64 Most Discussed PSP Game of 2007 |
| 75 | #75 Most Shared PSP Game of 2007 |