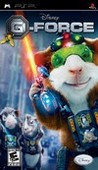 Summary:

G-Force is a fast-paced action-platform game featuring a unique elite team of specially trained guinea pigs that use high-tech gadgets and specialized talents to complete a dangerous government mission. G-Force puts players in control of both Darwin, the guinea pig leader of the covert

G-Force is a fast-paced action-platform game featuring a unique elite team of specially trained guinea pigs that use high-tech gadgets and specialized talents to complete a dangerous government mission. G-Force puts players in control of both Darwin, the guinea pig leader of the covert intelligence G-Force squad, and housefly surveillance sidekick, Mooch, as they team up with the other G-Force agents and use their gadgets, stealth mastery and pint-sized teamwork as mankinds only hope to complete a dangerous high-level government mission. G-Force uses innovative gameplay featuring a unique sense of scale, puzzle solving that requires players to manipulate environments and enemies, including diabolical waffle irons among evil household appliances. [Disney Interactive Studios]

…

Expand
Developer:

Keen Games

Genre(s):

Action

,

General

,

Platformer

,

3D

Cheats:

On GameFAQs

Rating:

E10+
The DS and PSP games end up just as good as the console games did: solid and fun videogame versions of a silly kids' flick. The portable game is a different experience than the console game, and while I prefer the Eurocom design to the Keen Games creation, the handheld team pulled off a pretty impressive – if a little basic – action game.

Jumping around is a lot more fun than engaging in combat in this licensed movie adaptation.

G-Force for the PSP takes away any joy that might come from being a super-spy guinea pig and leaves a lousy, repetitive grind.