Publisher:

SCEA

Release Date:

Sep 30, 2009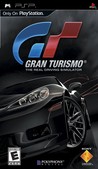 Summary:

Gran Turismo makes its highly anticipated debut exclusively on the PSP system, introducing the most ultra-realistic racing experience ever on a handheld. Buckle up as you prove your driving skills on 35 tracks and trade and share over 800 cars. Slick Visuals --Runs on a new graphics engine

Gran Turismo makes its highly anticipated debut exclusively on the PSP system, introducing the most ultra-realistic racing experience ever on a handheld. Buckle up as you prove your driving skills on 35 tracks and trade and share over 800 cars. Slick Visuals --Runs on a new graphics engine designed for the PSP system that delivers visuals at a crisp 60 frames per second. Depth and Variety -- Collect over 800 licensed vehicles from international automakers. Expand Your Collection -- Trade and share cars with friends to expand your collection via Ad Hoc wireless. Hit the Road -- Race on 35 licensed and fictional tracks, with 60 track layouts total. Compete in time trials, races, or drift mode challenges. Test Your Driving Skills -- Complete over 100 challenges to hone your driving skills and learn new cornering, braking and other driving techniques. Bragging Rights -- Prove your driving skills in four-player races using Ad Hoc mode. [SCEA]

…

Expand
Please enter your birth date to watch this video:
You are not allowed to view this material at this time.
Gran Turismo 4 Mobile Gameplay Movie 1
However, Polyphony Digital has not only delivered on their promise to make a great portable Gran Turismo, they have created the best portable racer this generation.

The best four-wheeled satisfaction you'll ever get from a handheld. [Issue#184, p.64]

Gran Turismo on PSP is not quite as slick as its PS2 or PS3 brothers and the lack of a career mode is surprising. It's clumsy at times and the quality varies immensely, but it's still a class act.

Perfect for Quick Play. But without career mode GT seems a little pale.

Gran Turismo is fun to take out for a test drive, but for the long haul it lacks the depth that players have come to expect.

Whilst fans of previous series entries will doubtless drag plenty of enjoyment from having such a revered title in portable form, players less influenced by rose tinted memories of GT's past may find it harder to forgive the limitations of the game structure and the similarly limited reasons to progress.

Gran Turismo PSP falls short of delivering a full experience. Polyphony Digital did an amazing job on the technical side of this game, but the glaring omission of a real career and the lack of car upgrades sinks what could have been a great title.
The game is just amazing. I love play this game. For me this game is amazing ! Nothing more to comment because this game is amazing ! I rate

The game is just amazing. I love play this game. For me this game is amazing ! Nothing more to comment because this game is amazing ! I rate this 10/10

…

Expand

Sure it doesn't have career mode, but it races like a dream. I never got far in career mode anyways in GT4. It was too hard driving

Sure it doesn't have career mode, but it races like a dream. I never got far in career mode anyways in GT4. It was too hard driving those crummy slow cars. I like the automatically adjusting difficulty level. Trust me, turn off all of the driving enhancements (except maybe traction control) and it feels fantastic. There is tons of stuff to do, don't listen to the haters. I'll play GT5 for career mode. Most of the time you are trying to squeeze in a "quick" race or two or ten. How many people are going to invest hundreds of hours for a career mode on a portable?

…

Expand

GT for PSP is a solid driving game,the car list is extensive,the driving physics are solid,and the track selection is ridiculously large.

GT for PSP is a solid driving game,the car list is extensive,the driving physics are solid,and the track selection is ridiculously large.

GT PSP edition makes a solid start as you get a car and 100,000 to start the game.Car list rages from city cars to hypercars.The game however only lets you choose to by cars from 4 manufacturers and changes every 2 races.There is no career mode,but you choose everything before the race.Car,track,the amount of laps,and if you want to make the race one manuacturer only,the game's strength is the driving,which is the most important.

Overall:Solid handheld racing game.

…

Expand

this is a review for GRAND TOURISMO for the PSP GO PROS: excellent graphics the best I have seen out of all the race games...The most

this is a review for GRAND TOURISMO for the PSP GO PROS: excellent graphics the best I have seen out of all the race games...The most realistic handling...The best multi-player game as long as you have friends to play CONS :the one thing that ticks me off about GT is the fact that there is no career mode CONCLUSION: I really like the game and I truly believe that anybody who considers themselves as a racing icon must own this game the replays are unmatched...The graphics are a 10 in a 7 world...they just didn't add much replay ability to the game which is really sad considering they made it for a portable system

…

Expand

A disappointment to say the least. It ditched the career mode ("Gran Turismo mode") and all the player does is collect cars. Very little

A disappointment to say the least. It ditched the career mode ("Gran Turismo mode") and all the player does is collect cars. Very little gameplay. At least the game has license tests; I can't say the same about the boring races with a few other AI. There's long loading times for each level and every menu, especially on a PSP-1000. Even though it's a car collecting game, the player has to wait to buy which-ever car they want. Each game day a selection of only a few dealers show up, despite how the game is packed with cars. The few pros (such as graphics and frame rate) are easily outweighed. This game was not worth the positive speculation after it was originally announced, years before its release.

…

Expand

Rating this game is simple. Take all the things from GT on the consoles which are all great, but minus a career mode. Without a career mode

Rating this game is simple. Take all the things from GT on the consoles which are all great, but minus a career mode. Without a career mode the game just feels empty and there is no desire to race to earn anything. I am really dissapointed with this game.

…

Expand
| | |
| --- | --- |
| 27 | |
| 1 | #1 Most Discussed PSP Game of 2009 |
| 8 | #8 Most Shared PSP Game of 2009 |